Trump Trashes RNC: GOP Keeps Losing Because They Are 'Controlled by the Special Interests'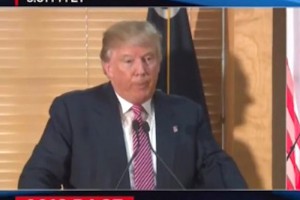 In his impromptu presser Monday afternoon, Donald Trump opened fire — yet again — on the Republican National Committee, opening up another chapter in his long, contentious relationship with the party establishment.
Trump accused the RNC of being "controlled by the special interests and the donors," and claimed that the loud booing he received at the Saturday night debate, after he had criticized George W. Bush, came about because the the party had, essentially, stacked the audience with establishment shills. As he wrapped up the conference, Trump drew a straight line from the crowd's poor reception of his remarks to the party's trouble winning the Oval Office.
He concluded:
The RNC gave all the tickets to special interests that represented Cruz and Rubio. They had all the tickets. They walked onstage, the place went crazy. It's sort of interesting: One guy's got like very low in the polls, the other one's pretty low in the polls. I'm very high — there's nobody in the room — I had my wife and my kids. Okay? Because I don't have donors — I mean — you know, I don't have donors, and I don't have special interests, and I don't have any of that, so — But I think the RNC did a very poor job. Now we've warned them twice, 'cause this happened twice before. So we've warned them, and they don't listen. I think the RNC is controlled. The bottom line is the RNC is controlled by the establishment. And the RNC is controlled by the special interests and the donors. And that's too bad because that's not good for the — And that's why the Republican party, for president, has lost so much for so long. Thank you all very much. I appreciate it. Thank you.
Trump also blasted the RNC for being in "default of their pledge," referring to the (largely symbolic) loyalty pledge he signed with RNC chair Reince Preibus, which nominally precludes Trump from ditching the Republican contest and mounting an independent bid for the White House.
Trump denounced the RNC for practicing "deceptive Washington tricks" over the weekend when the committee "illegally put out a fundraising notice" (in Trump's words) that told Republicans that the real estate mogul wanted them to donate. "The RNC does not treat me well and then they use my name, without my knowledge, to raise money for themselves," Trump wrote, and got the RNC to remove the notice.
[image via screengrab]
Have a tip we should know? tips@mediaite.com