Trump (Yet Again) Slams Politico For Negative Story: 'Level of Dishonesty is Incredible'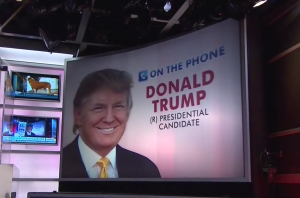 Donald Trump went after Politico yet again, this time attacking the outlet on MSNBC's Morning Joe for publishing a story claiming he sought donations from other rich billionaires.
A Wednesday Politico story reported that while Trump had blasted his opponents for seeking money from billionaires, "Trump or his surrogates have sought to build relationships ― if not support ― from all [the same billionaires], calling into question the billionaire real estate showman's repeated assertions that, because of his wealth, he has no use for major donors."
"Were you reaching out for support and/or money from those donors?" host Mika Brzezinski pressed, after reading off the details.
Trump began to respond before cutting to the chase directly: "Look, Politico is so dishonest and so many different things. This Politico website or whatever the hell they call it, I mean they write about me. We don't even deal with them anymore because the level of dishonesty is so incredible."
After dishing out his dirt on Politico, Trump moved on to attack Super PACs in general. "And I'll tell you what, this whole super-PAC, it's a scam deal, and it's a horrible thing that's going on… We disassociated ourselves from all of them. We don't want any of that money," he said.
"It wasn't just Politico, New York Times reported this too," pointed out MSNBC's Willie Geist. "You never had any conversations with Shelley Adelson or Paul Singer, big Republican backers who you've now criticized, about your campaign?"
"Only from the — I don't know who Paul Singer is, and only — I had one conversation with Sheldon," Trump said, hesitating slightly, "And all he wants to do is protect Israel. But I don't want his money, I don't need his money."
Watch above via MSNBC.
[Image via screengrab]
——
>>Follow Alex Griswold (@HashtagGriswold) on Twitter
Have a tip we should know? tips@mediaite.com