'Trumped': Kimmel's Post-Oscars Special Takes on The Donald With Spoof of The Producers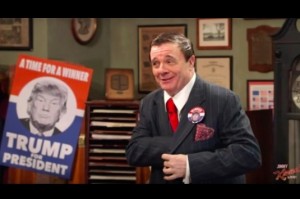 Jimmy Kimmel held his post-Oscars special on his show Sunday night, where he hit it out of the park with takes on the various nominated films and a confrontation with his favorite enemy, Matt Damon.
Beyond his coverage of the awards though, perhaps the greatest moment of the night occurred when he had Nathan Lane and Matthew Broderick reprise their legendary roles from The Producers to poke fun at Donald Trump in a big way.
The original musical focuses on two Broadway producing con-artists who plot to create a show guaranteed to fail so that they can present it as the next big hit and abscond with the investment funding and profits. In Kimmel's take, Lane and Broderick are political consultants with a similar plan to profit off the fundraising for a doomed candidate, and they realize that Trump is exactly the kind of "train-wreck, gold-plated nincompoop," they're looking for.
Things don't go exactly as planned, of course, as just like in the play (SPOILER ALERT) their hopes fall apart when their man spirals out of control and becomes a major success. Going through a list of Trump's various controversies and incendiary proposals, Lane's Max Bialystok can only wonder "how can this happen? Where did we go right?"
In the end, the best Lane and Broderick can do is put on a brief yet fabulous musical number about how their "chump" has evolved beyond them and is now a serious contender for the presidency.
Watch above, via ABC.
[image via screengrab]
Have a tip we should know? tips@mediaite.com