Trump's New Grudge Against Megyn Kelly, Fox Good News for Rest of the Competition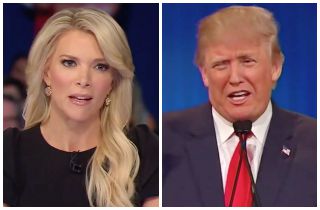 After what he called unprofessional and unfair questions during Thursday night's GOP debate in Cleveland, Donald Trump isn't exactly thrilled with Fox News and particularly Megyn Kelly (which is the new understatement of the year).
There's an old saying around suffering from Irish Amnesia…which consists of forgetting everything but the grudge. And since Trump is the case study for the aforementioned ailment, he's decided to show Fox he's willing to mostly avoid the network (and especially The Kelly File) by appearing anywhere and everywhere except Fox lately (the exception being Fox & Friends, with which he has a good relationship with and once appeared on a weekly basis a guest for years).
Two (painfully obvious) things about Trump from a media perceptive: (1) He can get booked on any program regardless of lead time and (2) He rates like no one else in the world right now. Fox didn't get a record-shattering 24 million people watching on Thursday night because of the electricity that is Jeb Bush and Scott Walker. Yes, the debate would have still registered solid numbers, but Trump was the difference between 10 million and 24 million because of a mix of curiosity (Will an actual fight break out? How will the moderators handle him?) and an ability to bring in non-political folks who would never dream of watching a GOP primary debate (or any debate) on a summer night in August.
All of that said, if Trump calls CNN and says he wants 30 minutes during its 9:00p ET hour by phone, the original rundown is set on fire and the candidate is given whatever he wants. And know this: producers loathe phoners (who wants to look at someone's file photo for three blocks?). Invariably, interviews-by-phone are only reserved for emergencies (on scene for breaking news when satellite or Skype isn't available) and certainly not for political interviews, and definitely not for 30 minutes.
It was no accident Trump decided on the CNN 9:00p ET slot (CNN Tonight) on Friday night (hosted by Don Lemon, who usually is on at 10:00p), as it goes directly against Kelly's program. It will be interesting to see the numbers when they come out Monday (Prediction: Kelly wins but not the usual wide margin… more like by a field goal). It is also no accident Trump decided to appear on ABC's This Week, NBC'S Meet the Press and CBS' Face the Nation and (drumroll) CNN's State of the Union today (where questions about blood and body parts will trump anything about policy by a country mile). Not included on that list, of course, is Fox News Sunday, hosted by one of Kelly's co-moderators in the form of Chris Wallace. (UPDATE: A Fox News rep later told us that Fox News Sunday doesn't do phone interviews with any presidential candidates, and the show is in talks with the Trump campaign regarding a longer, on-camera interview in the future.)
One of subplots to come out of Thursday night (of many) is the new war between Trump and Fox News: Trump supporters and AM radio from Limbaugh to Levin think Kelly was out of line. Fox (outside of Todd Starnes, at least publicly) and some GOP candidates (such as Thursday winner Carly Fiorina) are in Kelly's corner. Get more popcorn ready…
There are some who say no GOP candidate can survive without ample airtime on FNC. Donald Trump is about to try to prove that sentiment wrong, at least when it comes to appearing on any program hosted by anyone named Kelly, Wallace or perhaps Baier.
And in the process, all Fox competitors will benefit…all thanks to the scourge that is Irish Amnesia.
UPDATE: A Fox News rep said that "Fox News Sunday" doesn't do phone interviews with any presidential candidates, and the show is in talks with the Trump campaign regarding a longer, on-camera interview in the future.
— —
Follow Joe Concha @JoeConchaTV
Have a tip we should know? [email protected]