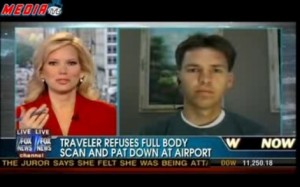 John Tyner, the man whose viral video refusal to have his "junk touched" has made him something of a folk hero, appeared on Fox News' America Live to respond to unfortunately-named TSA administrator John Pistole, among other things. While Pistole and Homeland Security Secretary Janet Napolitano maintain that the privacy of Tyner's privates is a small sacrifice to make, software engineer Tyner says his hardware is off-limits.
After the jump, FNC's Shannon Bream (filling in for Megyn Kelly) quizzes the not-so-frisky Tyner on his feud with the TSA.
Here's the interview, from Fox News Channel's America Live:
It should be pointed out that the Advanced Imaging Technology (AIT) machines don't actually show a passenger's "naked body," but rather, something closer to "simulated" nudity. As Secretary Napolitano notes, the person viewing the scan never sees the person being scanned, nor can they capture, store, or transmit the image.
While Tyner's privacy concerns are obviously resonating with many people, his prescription for the body scanners is based on faulty intel. The "puffer" machine program he describes has long been scrapped by the TSA because they didn't work.
Still, Bream and Tyner may be onto something with those t-shirts. Maybe he can team up with this guy for a line of "Don't tase my junk, bro!" casualwear.
Exit question: If Tyner was a swarthy dude named Mohammed Hussein Tynedinejad, would the media be covering his refusal to be screened with the same folk-hero sheen?
Have a tip we should know? tips@mediaite.com