Tucker Carlson, Alan Colmes, And Fox's MacCallum Get Into Heated Battle Over Candy Crowley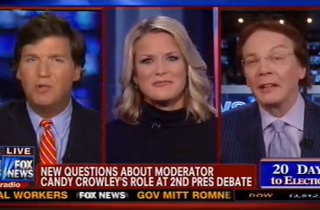 On Fox News America's Newsroom this morning, host Martha MacCallum and The Daily Caller founder Tucker Carlson squared off with Fox commentator Alan Colmes over whether President Barack Obama failed to answer several questions during last night's presidential debate, and whether moderator Candy Crowley acted appropriately in her "correction" of Romney's claims about the Libya attacks.
Carlson started the conversation by taking issue with Crowley's "shocking" debate moderation: "I say this as someone who likes Candy Crowley personally. She threw the president a lifeline, there is no question. She inserted herself again and again in the debate."
He continued on to say that this was "not a time to play cable pundit during the middle of the debate, at the most decisive moment in the debate to throw out something fundamentally dishonest." Carlson accused Crowley of trying to reverse the truth that Obama's camp had spent weeks declaring the Libya attacks a result of a YouTube video, "hurting Romney" in the process. "I think it's a total outrage what she did last night," he concluded.
Colmes called Carlson's allegations "ridiculous," adding that "Candy Crowley did her job. Her job of a journalist is to in fact get the truth out there. There is nothing she said that was not true."
MacCallum then stepped in to criticize Crowley for saying, pre-debate, that she would call out both candidates for not directly answering questions, but then not following through on plenty of opportunities during the actual debate.
"Starting with the very first question," MacCallum noted, "Governor Romney started talking, and didn't really get around to answer his question. The same thing happened with President Obama. When the question of Libya came up, he was asked why didn't your administration jump in because there were prior attacks to the Benghazi attack and people requested more security and you didn't do anything about it? He never addressed the question. Why didn't Candy Crowley jump in and say, wait a minute, Mr. President, you didn't answer the question? Wasn't that supposed to be her role?"
"As a matter of fact, I think he did answer the question," Colmes fired back.
"No, he didn't. Not about the prior attacks and why he didn't boost security," she replied.
As Colmes went on to explain that Romney was a "bully," MacCallum responded that "if you're going to jump in for the president, you have to do the same thing for Mitt Romney. Once you establish that role you will have to do it all over the place."
Clearly irritated by the criticism of Crowley's moderation, Colmes called Carlson's response "morning-after spin," which prompted the conservative to shoot back: "This is not spin. Spare me. I'm not representing the Romney campaign."
"If Romney had done better you wouldn't feel you have to climb uphill as fast as you are climbing," replied Colmes.
"Give me a break," defended Carlson. "I never acted on behalf of the Romney campaign. Far from it. What I saw was a journalist insert herself into a process she wasn't needed doing so in fundamentally dishonest way leaving impression with the audience that the president said something he didn't say."
Colmes then got a bit personal with Carlson, bringing up the 2007 Obama speech video The Daily Caller and Drudge Report hyped up as "devastating" to the campaign. "To say you never acted ever on behalf of the Romney campaign when you put out the video that went nowhere couple weeks ago is really ridiculous," said Colmes.
"I'm sorry I hurt your feelings, Alan," snarked Carlson. "I'm sorry it's out-of-bounds to play the president speaking."
Watch the segment below, via Fox News:
— —
>>
Follow Andrew Kirell (@AndrewKirell) on Twitter
Have a tip we should know? tips@mediaite.com