Tucker Carlson And Alan Colmes Take On Whether Karl Rove's New PAC Is 'Anti-Tea Party'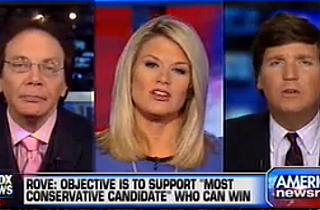 This morning on America's Newsroom, Fox contributors Alan Colmes and Tucker Carlson went head-to-head over the implications of Karl Rove's new PAC aimed at weeding out weaker GOP candidates, a move which many grassroots conservatives have interpreted as being "anti-Tea Party."
Carlson argued that it shouldn't be about promoting the "most conservative" candidate that can win, but rather about supporting the candidate who can actually be "articulate" and not come off as endorsing rape when attacking abortion.
"I think [Rove's] got a really good point," Carlson continued. "They did support an awful lot of conservative candidates. The Republican Party, for a bunch of different reasons, apparently isn't strong enough to weed out the poor candidates in the primary. Groups like Karl's fills the void. Somebody has to be a gatekeeper keeping morons away."
"Alan loves when morons run for office, it makes him very happy," host Martha MacCallum joked.
"I want conservatives who can't win," Colmes said. "I want conservatives who make comments like 'God intended, if women get raped, that the baby should be born.'"
"This will not be settled until there is a broad consensus among Republicans on what they stand for," Carlson added. "What does it mean to be a Republican? What do you believe when you're a Republican?"
When MacCallum suggested Democrats have been successful in "demonizing" Republicans, Colmes said, "I don't think Republicans need any help from Democrats to be demonized."
The Fox host later added that "I honestly believe that both sides really do want the best for the country, they just have very different ways about how you get there. One side believes that the government is the best route to helping people and the other side believes that people on their own volition are the best answer."
"I don't think Democrats always think government is the best way to help people," Colmes disagreed, eliciting laughter from Carlson. "But we have a more benign view of government than conservatives, and think government can be a force for good when the other side thinks government is always evil."
"Fielding candidates who can make the case, it's not the same as fielding liberal candidates," Carlson concluded. "You can field strong, ideological conservatives and still win. They just have to be able to talk."
"Very low bar," joked MacCallum.
Watch below, via Fox:
— —
>> Follow Andrew Kirell (@AndrewKirell) on Twitter
Have a tip we should know? tips@mediaite.com