Tucker Carlson And Greta Van Susteren Tear Each Other Apart Over Mike Tyson Story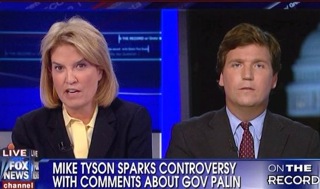 Greta Van Susteren went slightly ballistic over Tucker Carlson's editorial decision to publish a story on Mike Tyson's deplorable comments on Sarah Palin— she called him a "pig" and his website "disgusting." So it wasn't a surprise that her debate face to face with Carlson tonight was some of the best cable news television in quite a while, with Carlson cornering Van Susteren into explaining how his publication of "prima facie repulsive" comments compares to her friendly chats with Tyson on her program in the past.
Carlson defended his decision initially by first and foremost defending Palin: "if he had said that about any other woman in public life… [the comments] would be in the front page of the New York Times." He noted that he found strange how Van Susteren assumed that "we were somehow making this attack on Sarah Palin," rather than publicizing it." The comments in question involved Palin's alleged affair with NBA player Glen Rice, and some of the most disgusting descriptions of sexual activity imaginable– which isn't surprising coming from a convicted rapist.
"I think you're lying about something," retorted Van Susteren, arguing that the editorial note added to the Daily Caller article later condemning the remarks somehow belied Carlson's initial point. She then railed about how covering the piece was "not journalism" and "glorifies violence on women," to which Carlson interrupted and drew a parallel: "when al Qaeda says 'we're going to destroy America,' we report it." Van Susteren continued to argue that the article wasn't sufficiently condemning, to which Carlson responded the comments were "prima facie repulsive"– there was no need to prattle on extensively about how gross they were.
This somehow led Van Susteren to bring up a joke Carlson himself admitted was "stupid" about Sarah Palin being a "MILF": "you're not a first offender," she shouted, which prompted an extensive shoutfest from which one could cull out phrases from Van Susteren like "purveyor of smut" and "you got caught with your pants down"– while she did not bring out the Olbermann classic "pornographer of propaganda," it would have certainly fit in with the tenor and substance of her argument.
While Van Susteren went all "Special Comment" on Carlson, he was simultaneously making the point that Van Susteren has actually had Mike Tyson on her show and engaged in friendly chatter, even tweeting out a smiling photo of herself with the champion. "If you're so offended by Mike Tyson, why didn't you ask him a real question?" Carlson inquired, reminding her that she asked him why he was a vegan and other softballs instead of anything relevant to his history of violence against women. And as the last flashes of "purveyor of smut!" and "you sucked up to a convicted rapist!" flew past each other, alas, the time was up, lest On the Record viewers don't get their weekly John Bolton fix. It was one for the ages.
The segment functions on all levels of cable news greatness, but is also a particularly clear litmus test for conservatives: those who adore the cult of personality around Palin more than any ideology will side with Van Susteren, while those would rather see Palin treated on equal footing with other female public figures will undoubtedly side with Carlson. In the end, by bringing up a comment Carlson made months ago on Twitter that he apologized for and were irrelevant to Tyson, Van Susteren hit at the core of all the ire directed at the Daily Caller and Carlson for this story. Carlson has been willing to challenge the sacred cow status of Sarah Palin in the past– something akin to how calling out Jon Stewart for being a "bully" and a "hypocrite" is received on the left. It has made him something of a contentious personality among the conservatives around which he began his career who have been blinded by either personal affinity or the sheer power of unfiltered populism to defend Sarah Palin even when she isn't being attacked. Carlson's Daily Caller may have left the battle unscathed, but that may not be the case for Van Susteren, since she has conducted years of soft interviews with Palin followed by this attack on an editor who says he was trying to defend her. (Updates below video)
The segment via Fox News below:

Update: Van Susteren followed up the debate tonight with this comment on her blog, Gretawire, while Carlson commented via Twitter.
Have a tip we should know? tips@mediaite.com