Tucker Carlson and Jeanine Pirro Take a Page from Trump By Refusing to Apologize For Offensive Remarks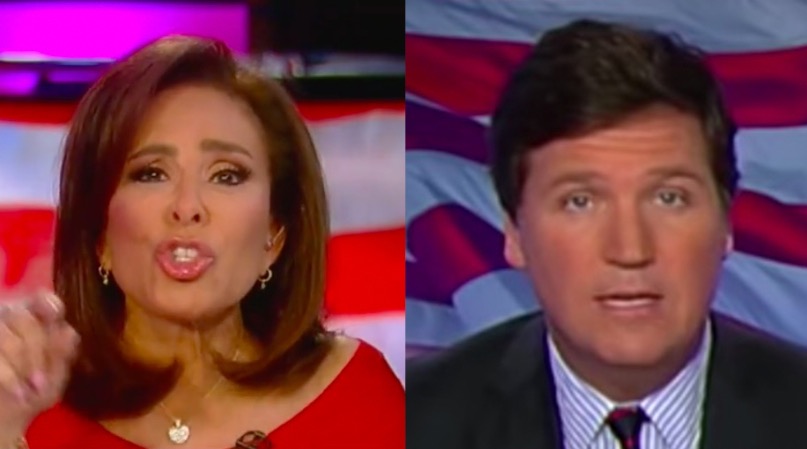 Two Fox News hosts issued statements over the weekend, in rapid response to their own outrageous comments from past and present. Jeanine Pirro, a Saturday night Fox News host with a passion for creepy invective, made comments about a congresswoman's hijab that were condemned as prejudiced. Tucker Carlson, a highly-rated darling of Fox News primetime, was besieged with criticism after Media Matters unearthed and published grossly sexist comments he made on a shock jock radio show from 2006 to 2011.
"Think about it: Omar wears a hijab," Pirro said of Rep. Ilhan Omar on Justice Saturday night. "Is her adherence to this Islamic doctrine indicative of her adherence to sharia law, which in itself is antithetical to the United States Constitution?"
"I think that this is sharia adherence behavior," Pirro added of the congresswoman. "It is somewhat disturbing if she is someone that is sharia-compliant."
Her comments were wildly asinine for someone with the privilege of a large platform, not to mention guilty of the same sin Omar committed: claiming a religious group maintained dual loyalty to a foreign entity.
The statements came late Sunday night, kicking off with condemnation from Fox News:
"We strongly condemn Judge Jeanine Pirro's comments about Rep. Ilhan Omar. They do not reflect those of the network and we have addressed the matter with her directly," the network said.
Pirro's statement, which followed, noticeably lacked contrition:
"I've seen a lot of comments about my opening statement from Saturday night's show and I did not call Rep. Omar un-American," she said. "My intention was to ask a question and start a debate, but of course because one is Muslim does not mean you don't support the Constitution. I invite Rep. Omar to come on my show any time to discuss all of the important issues facing America today."
Shorter Pirro: I was just asking questions. Also, here's a plug for the show.
Tucker Carlson's comments were older but no less nauseating. In series of chats with radio host Bubba the Love Sponge, while Carlson was at MSNBC and Fox News, he made degrading comments about women, defended statutory rape and called Martha Stewart's daughter "cunty."
His statement, also issued Sunday night, was defiant:
"Media Matters caught me saying something naughty on a radio show more than a decade ago," Carlson said. "Rather than express the usual ritual contrition, how about this: I'm on television every weeknight live for an hour. If you want to know what I think, you can watch. Anyone who disagrees with my views is welcome to come on and explain why."
As the Washington Post's Erik Wemple noted of the statement, "Instead of dealing with the substance of the matter, Carlson tries to parlay the up-and-coming scandal into higher ratings."
It's a tactic pushed by the network's former head, the late Roger Ailes, Wemple added: "Do something outrageous. Draw the scorn of liberal America. Use that scorn to bring in more non-liberal viewers."
Both responses are also remarkably Trumpian. Recall that the now-president stormed his way through the 2016 campaign off the sheer power of unapologetic offensiveness. He only apologized once: weeks before election day, after a years-old tape was unearthed on which he bragged of groping women.
Here, it's unclear whether these Fox hosts are following Trump's lead or Ailes's. Either way, we can be sure that the tried and true strategy will appeal to a relatively small but fanatical base, while repulsing the majority. That base, it should be noted, was enough to get Trump elected and enough ensure Fox's status as the number one network in cable news for nearly two decades.
Stay tuned for the ratings release of Monday evening's Tucker Carlson Tonight to see if the trend continues.
This is an opinion piece. The views expressed in this article are those of just the author.
Aidan McLaughlin - Editor in Chief