Carlson Blasts Palin's 'Disjointed Speeches,' Says Trump Looked 'Out of His Element' at Rally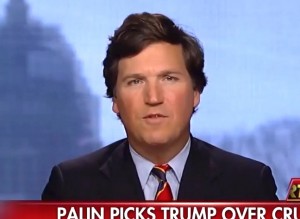 Fox News personality and Daily Caller publisher Tucker Carlson is not all that impressed with Sarah Palin's endorsement of Donald Trump, which became official at a rally Tuesday night. On Fox News Wednesday morning, Carlson pooh-poohed the endorsement, taking several hard shots at Palin along the way, and opined that Donald Trump looked uncomfortable standing next to Palin on that stage:
I'm probably the only one thinking this, but I'm not convinced that Sarah Palin is good for Trump at all. She's not that impressive, she squandered this great political capital she had eight years ago and hasn't achieved anything since, and also she gives disjointed speeches. The whole point of Donald Trump is that he doesn't take endorsements or need them. He is running outside normal channels, he doesn't suck up, he's beholden to no one. And that is one of the reasons he looks so uncomfortable. I'm sure I'm only one who think this, he looks like a guy out of his element all of sudden.
No, Tucker Carlson isn't the only one who thinks Trump looked uncomfortable. He's joined in that opinion by people with functioning eyes, especially when Palin started praising Trump punching bag Rand Paul.
Where Carlson errs is in thinking that Palin won't help Trump, a mistake that a lot of people make about Palin because of their own personal distaste for the former Alaska governor.
It's true that like a Michael Moore endorsement of Bernie Sanders, a Palin endorsement is unlikely to sway many voters, but what it does do is give Donald Trump complete title and deed to another several news cycles, plus a down payment on future news cycles while Palin is campaigning for him. It was almost surreal to watch commentators on MSNBC opine about Palin's faded star even as they carried every second of her endorsement live, and talked about it for the rest of the night.
Have a tip we should know? tips@mediaite.com