Tucker Carlson Delivers Big on Monday, CNN's Situation Room Third in Total Viewers in Time Slot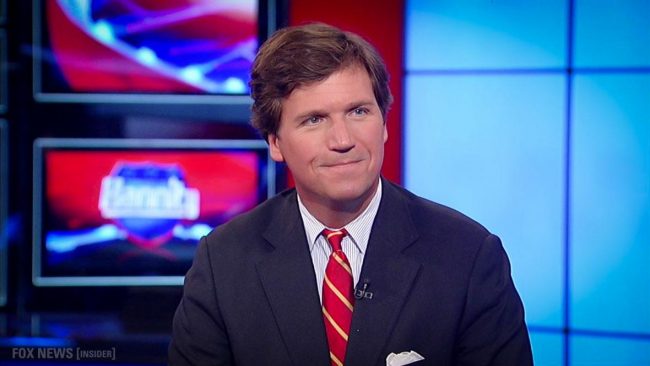 Fox News began the week by once again leading cable news across the board in total day and primetime viewership. Fox's primetime programs all led their time slots in overall viewers and the key 25-54 demographic. FNC's 8 PM show, Tucker Carlson Tonight, ended up being the second most-watched show for the entire day in both total and demo audience.
During the primetime 8 PM to 11 PM hours, Fox News averaged 3.49 million total viewers and 743,000 in the key demo. MSNBC was second in both metrics, attracting 2.558 million overall viewers and 554,000 in the demographic. CNN captured a total viewership of 1.127 million and a 25-54 audience of 404,000.
For the entire day, Fox pulled in 1.798 million overall viewers and 384,000 in the demo. MSNBC was runner-up in total viewership (1.166 million) and the key demo (251,000). CNN averaged 710,000 total viewers and 247,000 in the demographic.
Fox News' Hannity was the most-watched show of the cable news day, nabbing 3.9 million total viewers and 850,000 in the demo. Tucker grabbed 3.486 million viewers overall and 749,000 in the key demographic. MSNBC's 9 PM program, The Rachel Maddow Show, was third overall in both total viewership (3.182 million) and the 25-54 demo (739,000).
At the 5 PM and 6 PM hours, CNN's Situation Room finished in third place in total viewers, pulling in 867,000 at 5 PM and 862,000 at 6 PM. The program's 5 PM hour was second in the demo (279,000), pacing ahead of MSNBC's MTP Daily (257,000).
CNN's most-watched program of the day in both total viewers (1.221 million) and the demo (431,000) was the 9 PM airing of Anderson Cooper 360.
With the Dow Jones having its biggest point loss ever on Monday, Fox Business averaged 266,000 viewers during the business day, finishing ahead of CNBC (260,000). CNBC led the way in the key demo, pulling in 46,000 to FBN's 36,000.
[image via Fox News]
—
Follow Justin Baragona on Twitter: @justinbaragona
Have a tip we should know? tips@mediaite.com