"How do you know if you're living in a free society?"
That and a quote from George Orwell's 1984 is how Tucker Carlson opened a segment mocking "woke" Democrats for apologizing for their past comments and positions after criticism from the left.
He mocked Pete Buttigieg for apologizing over saying "all lives matter" a few years ago before similarly mocking Beto O'Rourke for apologizing about a joke about his wife and saying he'll be more thoughtful about his white privilege.
Carlson reacted to O'Rourke's comments by remarking "this is what Maoist tribunals looked like during the cultural revolution," alongside this graphic: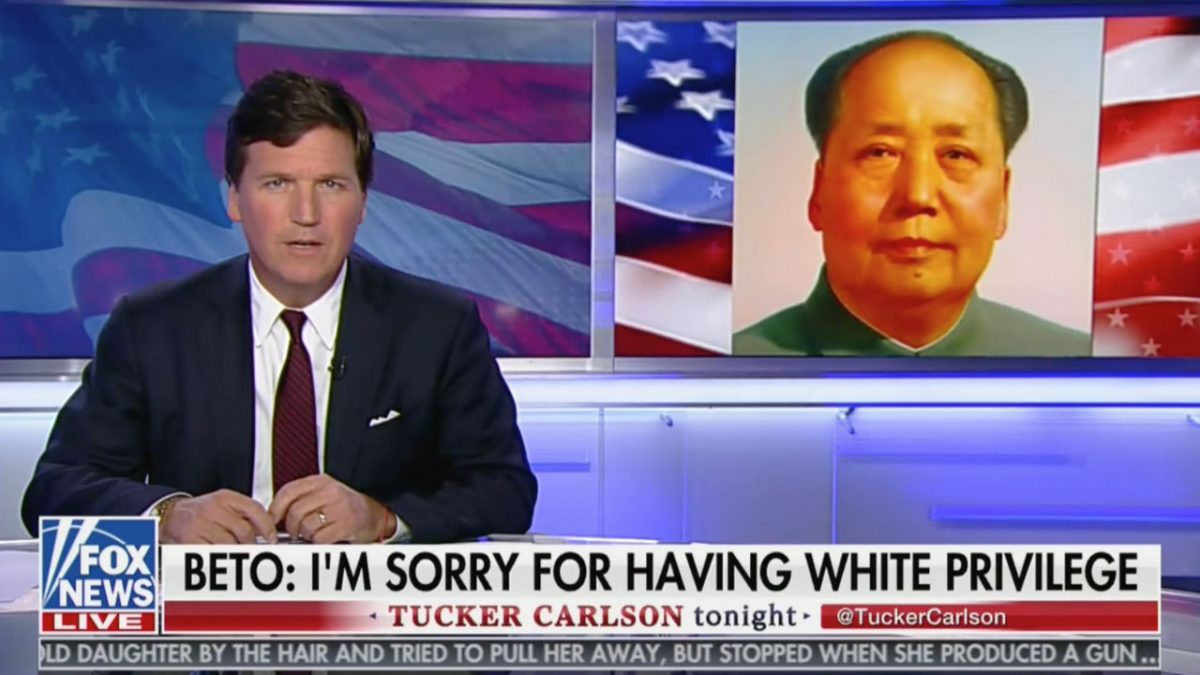 Those comments, including Kirsten Gillibrand apologizing for her past positions on immigration and the broder, led Carlson to decry "woke fascism":
"There's nothing liberal about any of this, obviously, it is purely authoritarian, woke fascism. Power over ideas in place of thinking, obedience, in return for dissent, punishment, lying as an official policy, and not just conventional lying, the ordinary truth-shading of everyday life but terrifying, full inversion lies, the exact opposite of the truth, the kind of lies that regimes that seek total control must tell in order to maintain their power."
As an example, Carlson said "the latest of these lies is that low-grade mafia figure Al Sharpton is in fact a legitimate civil rights leader," before showing clips of Democrats speaking to the National Action Network and offering words of praise for Sharpton.
"Where were these people in the mid-1990s when Al Sharpton was denouncing a Jewish landlord in Harlem as a 'white interloper' just before his store was fire-bombed and eight people were killed?" Carlson asked.
He also mocked Democratic candidates showing support for reparations before saying, "The bigger question isn't will we get reparations in this country. The real question is do you want to live in a place where people like the ones like you saw on the screen have more political power, where humor and dissent are criminal acts, where lying is the currency of public life, where authorities whose names you don't know can destroy you for thinking the wrong things. You're familiar with that world, you've seen it before. It's called Twitter. Imagine if it had control of the U.S. military."
You can watch above, via Fox News.
[image via screengrab]
Have a tip we should know? tips@mediaite.com
Josh Feldman - Senior Editor