Tucker Carlson: Obama Ignores Violent Media Because 'Hollywood' Donates To The Democratic Party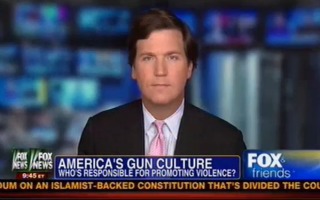 The Daily Caller'sTucker Carlson appeared on Fox & Friends this Saturday and slammed President Obama for refusing to acknowledge the media's role in our violent culture for fear of losing "Hollywood" donations. "Hollywood is one of the largest donors to the Democratic Party," Carlson said, and because of this, the Obama administration ignores the violent media.
Host Dave Briggs asked Carlson if he thought Hollywood was "hypocritical" in speaking out against gun violence but never admitting their contribution to the problem. Co-host Alisyn Camerota suggested Hollywood is a "powerful lobby" that "bears some responsibility for the culture of gun violence". According to Carlson, the main question Hollywood should be asking is whether "watching violence movies" and "playing violent video games" affects children. Carlson admitted "we don't know" whether the media desensitizes people to violence but he believes "common sense suggests maybe."
Carlson lamented that the role of media in America's violent culture hasn't been examined fully. He underscored his point that the reason for this is because Hollywood makes large contributions to Democratic to Democratic candidates:
"This is something Hollywood should be taking a close look at it. There ought to be some soul-searching. There ought to be, in the words of the left, some corporate responsibility here. And yet, you do not hear members of Congress on the Democratic side suggest this because they're taking hundreds of millions of dollars from Hollywood."
Carlson called said Hollywood was a "pillar" of Democratic fundraising, even more than the gun lobby is to Republicans.
Watch the full clip below, via Fox News:

—
>>
Follow Anjali Sareen (@AnjaliSareen) On Twitter
Have a tip we should know? tips@mediaite.com