Tucker Carlson To Bill O'Reilly: Media Matters 'Basically Writes' MSNBC Primetime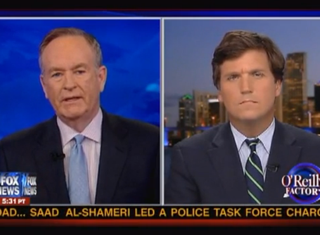 Tucker Carlson has been making the rounds on Fox News today promoting a massive investigation by his site The Daily Caller on Media Matters for America that exposes the close nature of their relationship with MSNBC and many mainstream media reporters and editors. On The O'Reilly Factor tonight, Carlson elaborated on some of those points, particularly pointing out Washington Post writers Eugene Robinson, EJ Dionne and Greg Sargent as taking cues from the organization.
RELATED: Guns, Sex, And MSNBC: Daily Caller Publishes Media Matters Exposé
O'Reilly asked Carlson several questions about their anonymous sources, wondering why they had been unable to find former Media Matters employees to speak on the record, and whether Carlson was "comfortable" with the fact that the sources were unnamed. "We'd prefer named sources," Carlson admitted, but asserted that "we interviewed so many people… that you really get a granular sense of what is going on." He explained that many did not want to use their names because "everyone we talked to was mostly a committed leftist," and still believed in the Media Matters cause. "It's not that they had ideological problems with what Media Matters was doing, it was that they had problems with the management of David Brock."
O'Reilly then turned to the accusations themselves, that "MSNBC is pretty much taking what Media Matters puts out– and what Media Matters does is propagand– and takes it and throws it on the air without any kind of fact-check." Carlson answered the question with a quote from a source: "we basically write their primetime." He noted that he thought it was "certainly dishonest" because it "takes place behind the scenes," and the public should know where stories come from as they watch them. He added more names to the MSNBC accusation– Dionne and Robinson, and Greg Sargent. "I don't think most people know when they read their stuff that they have been talking to Media Matters, and I think it's worth knowing that," Carlson concluded. Another name that came up? The New York Times' Brian Stelter, but only as someone "friendly" to the organization, not someone taking actual cues from their work in secret. Carlson promised a week of exposure of the organization, so this may either be the best news they've got or just the tip of the iceberg.
The segment via Fox News below:

Have a tip we should know? tips@mediaite.com