Tucker Carlson To Fox Panel: Obama Campaign Trying To Cast Romney's Supporters As 'Bigots'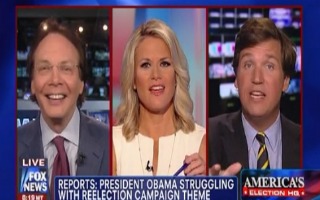 Liberal radio host Alan Colmes and Tucker Carlson, co-founder of The Daily Caller, appeared on Fox News Channel on Tuesday to discuss President Barack Obama's campaign slogan. Carlson said that the Obama team's campaign theme is to paint the "the Romney people being bigots."

RELATED:Tucker Carlson On Chris Matthews' Cries Of 'Betrayal' On Cory Booker: 'What A Stalinist!'
Colmes suggested that it is too early in the year for the Obama team to worry about campaign slogans or themes. "I don't think many people right now are paying much attention," said Colmes. "If he doesn't have the right catch phrase on Memorial Day, I'm not sure that has any real effect."
Colmes went on to suggest that President Obama should embrace the phrase "the change continues."
"I love Alan's idea and I hope they'll pick up on it right away," said Carlson. "Have you liked the change you've seen in the last four years? We've got more for you."
Carlson characterized the Obama campaign's message as, "yeah, we're kind of mediocre, but they're scary."
It's not about them. It's not about what Obama's done for the last four years. It's not about hope or change or any promise for the future. It's about the Romney people being bigots. That is what this war on women nonsense is about. This is what the lawsuit over the Arizona immigration law is about. It's convincing specific blocs of voters that the Romney people don't like them, and so you have to vote for Obama by default. That's the whole campaign in a sentence right there.
Colmes responded by saying that Obama should run on his accomplishments because there are many. "He's done a number of things that he should be proud of and the American people will decide properly," said Colmes.
Carlson agreed and said that Colmes' advice to the Obama campaign had a real "sweetness and ingeniousness" to it. He said that the Obama team should run on its accomplishments, because if he did the election would result in a Republican landslide victory.
"It would be McGovern '72. It would be Goldwater '64," said Carlson. "It'd be fewer than 100 electoral votes if he did that."
Colmes asked what Romney is running on besides being "not-Obama," to which Carlson answered "nothing." He said, however, that as the challenger being "not-Obama" is all Romney needs to run as.
Watch the segment below via Fox News Channel:
Have a tip we should know? tips@mediaite.com