Tucker Carlson: Woodward's Chummy White House Emails Show He 'Hyped' Claim He Was Threatened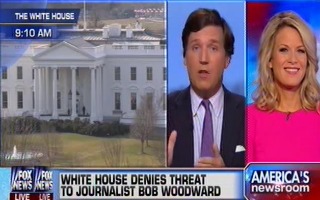 The Daily Caller co-founder Tucker Carlson weighed in on the controversial battle between the White House and Washington Post reporter Bob Woodward who claimed on Wednesday that he was threatened by a White House official. Carlson told Fox News Channel's Martha MacCallum on Thursday that the full emails from the White House which Woodward revealed to the press suggest that he "hyped that claim."

RELATED: Woodward On Tension Between Him And White House: I Got An E-Mail Saying 'You're Going To Regret This'
"Woodward has really hurt the White House," Carlson said of Woodward's reporting about the sequester. However, Carlson said that his claim that he felt threatened by emails from a senior administration official is undercut by the chummy tone of his side of that exchange.
"It looks to me like Woodward hyped that claim," Carlson said of Woodward's assertion that he had been threatened by White House advisor Gene Sperling. Carlson said that Woodward replied to the so-called threat by writing "Gene, you do not ever have to apologize to me."
MacCallum suggested that Woodward was probably just being polite in an attempt to keep the lines of communication with his sources in the White House open.
"I gotta say, this offers a window into how Washington actually works," Carlson added. "The kind of suck-upy, air-kissy relationship between reporter and source. It's a little bit, to be honest about it, hard to claim you were threatened when you're writing an email saying, 'you never need to apologies to me. I'll see you at lunch!'"
"This is not the posture of a guy who seems in peril to me," Carlson concluded.
Watch the clip below via Fox News Channel:
> >Follow Noah Rothman (@NoahCRothman) on Twitter
Have a tip we should know? tips@mediaite.com