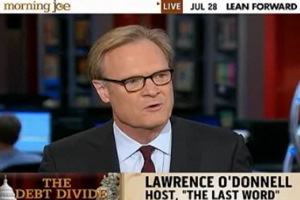 Even with the volatility of the numbers, there are always certain sureties every night in the ratings: Bill O'Reilly will win the night, Fox News will have seven of the top seven shows, and Rachel Maddow will usually be in the top three of the non-FNC shows. On Tuesday night, O'Reilly captured 742,000 viewers in the 25-54 year-old demographic, but Fox didn't grab the entire Top Seven; Maddow, who still had the highest non-FNC show, grabbed 351,000 demo viewers, which put her in fifth place on the night. She topped Greta Van Susteren, The Five, and Shepard Smith.
Still, even with Maddow cracking the Top Seven, the bigger surprise Tuesday night was probably Lawrence O'Donnell, who pulled in a relatively strong 252,000 demo viewers. And not only did he capture a larger-than-normal audience, he pulled closer to Van Susteren in the ratings. Maddow is still far behind Hannity in the demo at 9 p.m., but O'Donnell — who had his show moved from 8 p.m. to 10 p.m. in October — now seems like the best threat to overtake a FNC show in the time slot (which, to be realistic, is a goal that seems entirely impossible for any show — O'Donnell's just looks like the most likely). Van Susteren's 332,000 viewers beat O'Donnell's audience by just 70,000. There will have to be a perfect confluence of events for O'Donnell to overtake Van Susteren — continued strong lead-in performance from Maddow combined with further erratic ratings results from Van Susteren, for starters — but if there will ever be a crack in FNC's impenetrable ratings armor, this is probably where it will occur.
Other nuggets from Tuesday night:
Nancy Grace had a strong night, with 219,000 demo viewers, which made her the third-strongest non-FNC show on the slate.
On a relatively low night for FNC, O'Reilly's 742,000 demo viewers look even stronger than usual.
Just to follow-up on a weekend note that looks more fun in a new context, Mike Huckabee's GOP Presidential Forum on Saturday drew 408,000 demo viewers and 2.2 million overall viewers. As a reference point, the CBS Presidential debate, on a broadcast network, pulled just 5.3 million total viewers last month. It also aired on a Saturday.
Tuesday night's full ratings:
TV NEWS RATINGS: 25-54 DEMOGRAPHIC (L +SD)
5 pm
The5

312

Blitzer

175

Matthews

169

Special

88

6 pm
Baier

388

King, USA

113

Sharpton

165

Prime

140

7 pm
Shep

315

Burnett

145

Matthews

195

Issues

133

8 pm
O'Reilly

742

Cooper

139

Schultz

177

Grace

219

9 pm
Hannity

480

Piers

103

Maddow

351

Dr. Drew

121

10 pm
Van Susteren

332

Cooper

173

O'Donnell

252

Behar

85

11 pm
O'Reilly

442

Burnett

114

Schultz

140

Showbiz

73

TOTAL DAY
310
130
146
90
PRIME TIME
518
139
260
138
Data by Nielsen Media Research. Live and same day (DVR) data.
TV NEWS RATINGS: TOTAL VIEWERS (L +SD)
5 pm
The5

1,550

Blitzer

699

Matthews

769

Special

355

6 pm
Baier

1,990

King, USA

444

Sharpton

760

Prime
418
7 pm
Shep

1,745

Burnett

438

Matthews

844

Issues

622

8 pm
O'Reilly

3,296

Cooper

499

Schultz

884

Grace

622

9 pm
Hannity

2,188

Piers

720

Maddow

1,180

DrDrew

331

10 pm
Greta

1,672

Cooper

625

O'Donnell
956
Behar

333

11 pm
O'Reilly

1,190

Burnett

358

Schultz
548
Showbiz

274

TOTAL DAY
1,378
486
561
257
PRIME TIME
2,393
616
1,006
420
Data by Nielsen Media Research. Live and same day (DVR) data
(Image credit: Damian Dovarganes)
Have a tip we should know? tips@mediaite.com