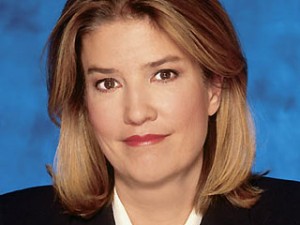 On Thursday night, Shepard Smith took third place overall (behind Bill O'Reilly and Sean Hannity) in the 25-54 year-old demo ratings. On Friday night, Bret Baier surged to third. On Monday, it was The Five. Tuesday night? Greta Van Susteren drew 406,000 viewers and landed in third place overall for the night.
Is this just some fun little game Fox News is playing with all of us? Rotating shows in and out of third place by manipulating Nielsen families with subtle mind games? One never knows. But for now, kudos to Van Susteren for being one of only three shows on the night — and the only non-O'Reilly/Hannity show this week — to draw over 400,000 demo viewers.
On a related note, we've heard that Van Susteren and her crew might have blown out Rush Limbaugh's power in his studio for 15 minutes today (although an emergency back-up source ensured the radio show wasn't interrupted) as they were prepping to tape an interview with him in Florida. The lights for the interview were supposedly off, meaning it wasn't FNC draining the power or tripping the circuits, so who actually blew out the power is in dispute. But the last time this happened to Rush's studio? When Fox News previously came to Florida to interview him. A portion of Van Susteren's talk with Limbagh will air tonight on her show, at 10 p.m. An extended version of the interview is slated for next week.
Other nuggets from Tuesday night:
Nancy Grace can lay claim to being the most consistent show on television recently. She finished in second place at 8 p.m. with 215,000 viewers.
Hannity narrowed the gap between his show and O'Reilly's on Tuesday, bringing in 524,000 viewers to O'Reilly's 560,000. Since there are essentially no trends in the ratings, this is likely just a one-night phenomenon.
The only shows attracting over one million overall viewers Tuesday night were those on FNC.
Tuesday night's full ratings:
TV NEWS RATINGS: 25-54 DEMOGRAPHIC (L +SD)
5 pm
The5

320

Blitzer

131

Matthews

185

Special

55

6 pm
Baier

352

King, USA

145

Sharpton

175

Prime

82

7 pm
Shep

313

Burnett

127

Matthews

184

Issues

126

8 pm
O'Reilly

560

Cooper

153

Schultz

202

Grace

215

9 pm
Hannity

524

Piers

166

Maddow

221

Dr. Drew

92

10 pm
Van Susteren

406

Cooper

191

O'Donnell

186

Behar

96

11 pm
O'Reilly

395

Burnett

157

Schultz

110

Showbiz

52

TOTAL DAY
296
129
139
86
PRIME TIME
497
170
203
133
Data by Nielsen Media Research. Live and same day (DVR) data.
TV NEWS RATINGS: TOTAL VIEWERS (L +SD)
5 pm
The5

1,481

Blitzer

581

Matthews

778

Special

182

6 pm
Baier

1,872

King, USA

525

Sharpton

783

Prime
298
7 pm
Shep

1,737

Burnett

472

Matthews

793

Issues

412

8 pm
O'Reilly

2,892

Cooper

575

Schultz

889

Grace

603

9 pm
Hannity

2,067

Piers

638

Maddow

994

DrDrew

402

10 pm
Greta

1,672

Cooper

513

O'Donnell
801
Behar

386

11 pm
O'Reilly

1,211

Burnett

330

Schultz
447
Showbiz

218

TOTAL DAY
1,318
413
539
251
PRIME TIME
2,213
575
895
459
Data by Nielsen Media Research. Live and same day (DVR) data
(Image credit: Damian Dovarganes)
Have a tip we should know? tips@mediaite.com