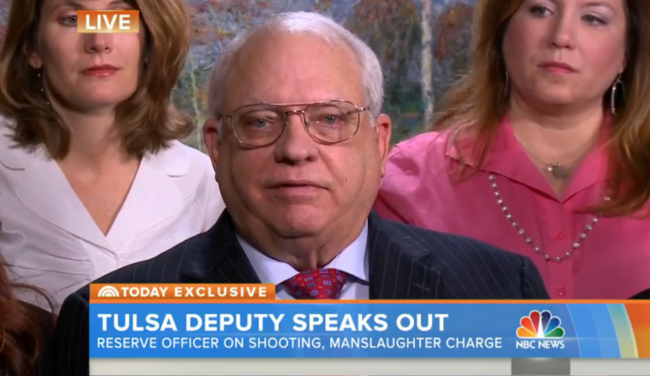 The Oklahoma reserve police officer who mistakenly shot and killed an unarmed man earlier this month finally spoke out on Friday morning, sitting down for a satellite interview with NBC's Today Show.
"First and foremost, let me apologize to the family of Eric Harris," Tulsa reserve deputy Robert Bates said of the 44-year-old black man he fatally wounded. "This is the second-worst thing that's ever happened to me or the first that ever happened to me in my life. I had cancer a number of years ago. I didn't think I was going to get there… I'd rate this as number one on my list of things in my life that I regret."
Asked by Matt Lauer how he could make the fundamental mistake of grabbing his gun instead of the taser, Bates replied, "This has happened a number of times around the country. I have read about it in the past. I thought to myself after reading several cases, I don't understand how this can happen."
He added: "You must believe me, it can happen to anyone."
The remorseful deputy, who was surrounded by his family and lawyer, told Lauer that "I have no desire to ever take anyone's life," and recalled the state of shock he was in the moment he realized he had shot Harris.
Lauer took the opportunity to grill Bates on several stories that have come out about his relationship with the Tulsa police: Allegations that he was allowed to "play cop" because of his financial support of the sheriff's deputy; and claims that the sheriff's department falsified Bates' training records to give him unearned credit for firearm certification.
Of the former, Bates said, "That is unbelievably unfair. I have donated equipment as I saw fit." He added that his main motivation has been to assist the department in fighting a local drug problem.
And on the latter accusation, Bates asserted that he has it "in writing" that he completed the required firearms training. His lawyer jumped in to dismiss the credibility of the report, noting it originates with records from seven years ago and comes from a source he says was recently charged with first-degree murder and is being represented by a firm also representing the Harris family.
Watch the full interview below, via NBC:
— —
>> Follow Andrew Kirell (@AndrewKirell) on Twitter
Have a tip we should know? tips@mediaite.com