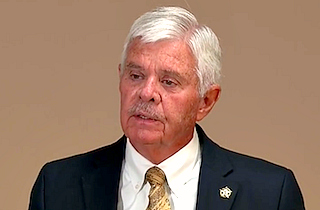 Tulsa Sheriff Stanley Glanz addressed reporters Monday morning, two weeks after the shooting death of Eric Harris by reserve deputy Robert Bates, which occurred when Bates accidentally fired his gun instead of his taser. The Sheriff's Office has been wracked by criticism that Bates bought his way onto the force, and that the office falsified his training records.
Glanz began by apologizing to Harris' family. "We are sorry Eric was taken from you," he said. "We all were involved and my sympathy goes out to that family. It's very important any time a life is lost in our community that we all need to stop and hesitate and say a prayer."
He said the FBI had concluded no wrongdoing on the part of the Sheriff's Office, and added that the deputies involved on the undercover sting that resulted in Harris' death had been receiving death threats. Glanz briefly addressed his relationship to Bates, who contributed $2,500 to Glanz's reelection campaign, alleging no impropriety, and affirmed there was no reason Bates shouldn't have been working backup on the sting operation.
Glanz was at times at pains to explain lost records, or how his office would investigate allegations of preferential treatment in Bates' training. Bates has been charged with manslaughter.
He also lit into the media, which he said had ignored the department's efforts at oversight and transparency before this incident.
"Very rarely has the press ever covered the professionalism that occurs in this agency," Glanz said. "We have an incident where a life was taken, and that's the business we're in. Lifes and deaths occur every day in law enforcement. And it affects everyone in this community. It affects the entire agency that it happens in. And there's been a lot of things said about the Sheriff's Office that are untrue."
Watch the clip below, via CNN:
[Image via screengrab]
——
>> Follow Evan McMurry (@evanmcmurry) on Twitter
Have a tip we should know? tips@mediaite.com