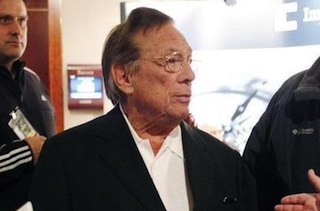 Conservatives trying to make political hay out of Donald Sterling's slow-motion downfall got some bad news Monday afternoon: despite having donated to several state Democrats in the early 1990s, the Los Angeles Clippers owner is a registered Republican and has been for at least 16 years.
A gratuitous subnarrative brewed up late Sunday over Sterling's twenty-year-old political donations to Golden State pols like Gray Davis and Bill Bradley, who were probably pretty good people to be giving money to if you were a Los Angeles-based business owner in the early 90s. After a few hours of genuine bipartisan condemnation, the partisan machine was plugged in and set to spin: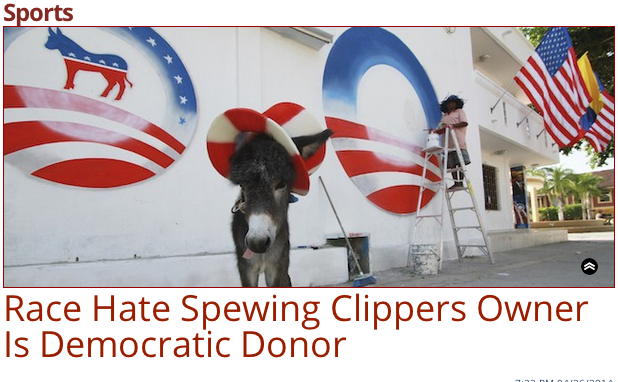 GOT GAME: NYT informed the unwashed how Bundy is a Republican. Leaves out NBA Sterling is a Democrat…

— MATT DRUDGE (@DRUDGE) April 27, 2014
Nice try. Los Angeles Times columnist Michael Hiltzik was the first to contradict this:
What makes anyone think Donald Sterling is a Democrat? LA County records show him registered Republican since 1998. #DonaldSterling

— Michael Hiltzik (@hiltzikm) April 28, 2014
Mother Jones reporters Asawin Suebsaeng and Patrick Caldwell tracked down his registration, which you can see at their site. Their take on it? A big so what: "There's little reason to get excited about Sterling's political affiliation," they wrote. "But if you choose to do so, you ought to get it right."
This is not to say you shouldn't be putting Sterling's comments into a wider political context: Alyssa Rosenberg's piece on how Sterling relates to the broader battle for players' rights is probably the smartest thing written about the Sterling affair so far.
Her piece worked in part, though certainly not exclusively, because it refused to read the incident into the boneheaded binary of "all conservatives are backwoods racists" or "liberals are the real racists," and instead focused on how attitudes like Sterlings' might have shaped the power structures of professional sports (and the amateur sports that followed them). It was specific and experiential, looking at how men like Sterling affect those who worked under them, rather than abstracting into gauzy partisan narratives that dismissed the players entirely in exchange for a talking point. Trying to affix a (D) after Sterling's name effaces the players a second time by subsuming them to a narrative that has nothing to do with them.
Donald Sterling's a racist. Isn't that bad enough?
[h/t Mother Jones]
[Image via screengrab]
——
>> Follow Evan McMurry (@evanmcmurry) on Twitter
Have a tip we should know? tips@mediaite.com