Tuscaloosa Mayor Discusses Needing Help After Tornado: 'This Is A Journey We Can't Complete Alone'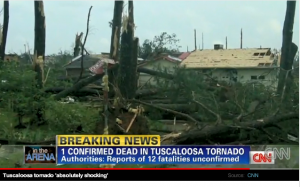 While Lawrence O'Donnell and Orly Taitz were entangled in their gruesome paso doble, and Rachel Maddow talked about talking about birthers while Ann Coulter talked about MSNBC talking about talking about birthers, a series of tornados violently ripped through the southern United States (and, now, there are tornado warnings reaching as far north as New Jersey), causing over one hundred deaths and extensive damage. Alabama's Tuscaloosa County was one of the hardest hit areas, and Tuscaloosa Mayor Walter Maddox took some time out to call In The Arena's Eliot Spitzer in order to talk about the challenges the area is facing in the aftermath of the storm.
One priority, Maddox explained, is restoring communication so that damage can be assessed and help given:
Well, we know of one fatality. We know of injuries related to this storm. This storm not only has cut a path of destruction through our city, it's also inhabited a lot of city services, our police station, our EMA, several police precincts, our environmental services department were all hit.

So, we have to restore communication. So, it has been for us a journey to get to the point where we can begin a full damage assessment.
And, obviously, much help is needed in order to help those most impacted by the wild weather. "This is a journey that we cannot complete alone," shared Maddox. "And so, we're going to need the help of state and federal resources to help Tuscaloosa return to normalcy sometime in the near future."
Take a look at the segment, via CNN:
And, if you're interested, ABC has a list of ways to provide help to the many tornado victims.
Have a tip we should know? tips@mediaite.com