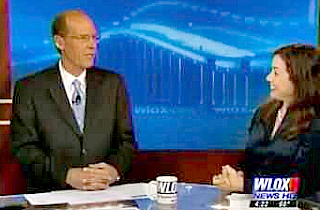 A veteran news anchor on an ABC-affiliated Mississippi news station upset his managers this week after he wrote a personal Facebook post on the abundance of stories about the gay community.
Earlier this week, WLOX-TV anchor Dave Elliott posted a friends-only status that read: "I'm all for the LGBT community's ongoing fight for equality. I support their fight in every way. But, it seems like they've been in the news too much lately. Maybe they should take a short break. Go on gaycation, just for the weekend. Enjoy yourselves!"

Screengrab below, via Jim Romenesko: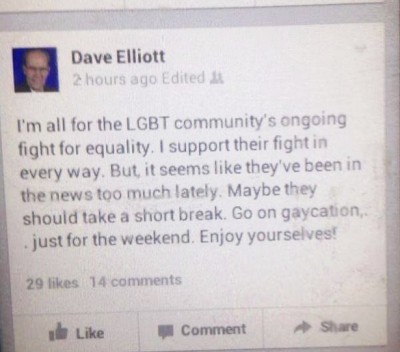 Elliott advising the gay community to go on "gaycation" did not sit well with WLOX management apparently. Though the station has not issued any formal statement, they did comment on Facebook that "We are not happy at all with the post or any imagined 'free publicity.'" They suggested outraged viewers should look to Elliott to address his own comments.
In another response, WLOX wrote: "[O]ur station is committed to covering news that happens in our community, and issues important to our viewers — that includes the LGBT community." The station pointed to several examples of its own LGBT coverage, noting: "Just this week, we aired several stories about the LGBT community on the coast and a march to the state capitol. I would ask that you let that work speak to our commitment to ALL our viewers."
Elliott later addressed the remarks, writing: "I recently made an insensitive and unprofessional Facebook post regarding the LGBT community. I did not choose my words wisely and I sincerely apologize to anyone who was offended by it. I've advocated for justice and equality my entire life. I hope this heartfelt apology is accepted in the spirit in which it is being made."
[h/t Raw Story]
— —
>> Follow Andrew Kirell (@AndrewKirell) on Twitter
Have a tip we should know? tips@mediaite.com