TV Critic to O'Reilly: You Should Be Tougher on Trump Just for What He Did to Megyn Kelly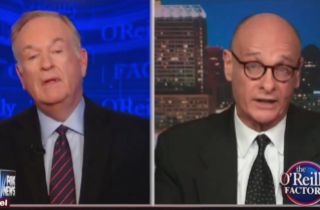 Just to give you an idea of how fed up people are getting of the media handling Donald Trump with kid gloves, television critic David Zurawik has a column out this week literally titled "Could cable news hosts kiss up any harder to Donald Trump?"
Zurawik's amazed by how cozy Trump's interviewers like being with him, from Joe Scarborough (over at "gasbag central," as Zurawik labels Morning Joe) fluffing up The Donald to Bill O'Reilly enjoying some laid-back banter with Trump.
Zurawik even noted how "the two started smooching back and forth about how much they like and respect each other."
Well, O'Reilly took notice and brought on Zurawik to confront him about that assertion. O'Reilly argued he's been plenty tough on Trump and there's nothing wrong with a little light banter.
He played a montage of him being a little tough on Trump and bragged, "I'm the toughest interviewer on Trump of any of them."
And to O'Reilly's credit, he has pushed Trump a little on his positions, lack of specifics, and some of his more outlandish statements.
But Zurawik dismissed that as cherry-picking and said O'Reilly should be tough on Trump if for no other reason than Trump's nasty attacks on his Fox News colleague:
"I remember when NPR fired Juan Williams, how you guys came out breathing fire as a tribe at Fox and defended him. I think you should be doing that on behalf of what Trump is trying to do to Megyn Kelly."
O'Reilly shut that down immediately, saying that would make it "personal" and arguing that he and Fox already dealt with the Trump-Kelly spat.
Watch the video below, via Fox News:
[image via screengrab]
— —
Follow Josh Feldman on Twitter: @feldmaniac
Have a tip we should know? [email protected]
Josh Feldman - Senior Editor