TV Critics Reeling After Oprah Holds Them Hostage With 18 Minute Long Answer At Press Tour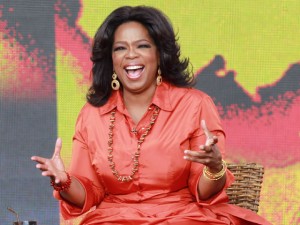 Right now, the annual Press Tour is going on for the Television Critics Association and this year is the first appearance by OWN (non-coincidentally, it's also the first year OWN's existed). That brought Oprah Winfrey and, if your favorite TV critics seem out of sorts this morning, give them a break. They're still reeling from the Queen of Day Time's ability to talk. Oprah gave a 50 minute press conference where she only took seven questions. How is that possible? Well, one of her answers was 18 minutes and 15 seconds long.
What question could have possibly conjured up such a monstrous answer? Did someone ask her for a plausible way to bring about world peace? Did a critic want her to list and spell the names of every person who's ever worked on her talk show? What was it?! Hitfix's Alan Sepinwall has a hilarious account of the excruciating panel in which he gives the details:
"The question was a deceptively simple one: 'What were your dreams when you were a kid? What did you aspire to be? And it seems like you won every lottery in the country. What were your hopes, and what were your dreams?'

Oprah smiled broadly at this and said, 'God, that's such a wonderful question. Nobody has ever asked me that. That's a lovely question. I have to think about it.'

So she thought about it for a moment. And then she began to talk, and talk, and talk, and talk…

… for the next 18 minutes and 15 seconds, uninterrupted by the audience save for a moment where she needed us to help her remember the name of Joan Lunden.

It was an extraordinary piece of filibustering, in that Oprah answered the actual question fairly quickly, and just… kept… going. She talked about her childhood in Mississippi. She talked about Michel Jackson's 'Thriller' album. She talked about ratings. She talked about many things. Mainly, she talked."
Yikes. Critics had no choice but to just sit and listen. Oh, and tweet. My God, did they tweet. The website News for TV Majors has collected all of the agonized tweets from the captive audience all in one page and it's probably the funniest thing you'll read today. Here are a few choice examples:
BastardMachine – Oprah just allowed another question. I just used my Oprah pen to stab myself in the ear.

HitFixDaniel – Oprah just made a reference to a gynecologist appointment. Yes. Yes she did. Yes. Yes. She did. #broken

EricIGN – Oprah is talking about how "self-awareness" and how that doesn't mean she's in love with herself. Self-aware… like Skynet. #TCA

tvoti – Wife suggests over IM that if I take off my shirt, Oprah will stop talking. I'm gonna need at least $250. #tca
As amazing as those reading those are, the truly incredible thing is that all Press Tour panels are transcribed. Yep, you know what that means. Some poor stenographer had to type down every word. Sepinwall has pasted Oprah's answer to the longest question in his write up. It's 2,938 words long.
So, now, here's a fun activity. Get a friend, sit down in front of them, and have them read the answer to you in its entirety. Now write up a review of the new season of American Idol and, congrats! You now know what it's like to be a professional TV critic!
Have a tip we should know? tips@mediaite.com