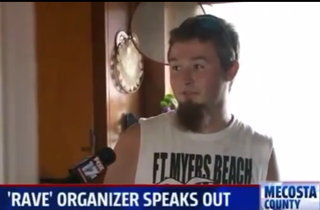 Last week, 20-year-old James Taylor (not the singer) managed to throw, by all accounts, the most legendary rave ever seen in the barren hinterlands of West Michigan.
It was so big (2000 people showed up, with one person driving in from Tampa), that a news crew was dispatched to Taylor's house to capture the aftermath. According to Fox 6 Now, Taylor was planning a going away party for himself, but someone handed out his address the afternoon before the party, attracting hundreds of underage partiers.
In a surprisingly mature admission, Taylor said he accepted responsibility for throwing the party, but pointed out that he wasn't responsible for having minors at his party, nor the sexual assault of a woman who attended.
"I didn't force anything down anybody's throat. I didn't make anybody stay here until 7 AM or 11, or whenever it was that everybody left. I didn't make this kid pass out on my floor," he added, pointing to a kid who was actually passed out on his floor. "People wanted to be here. That was their decision."
Taylor may be facing charges for providing alcohol to minors, but in his defense, Taylor said he had no idea that there were underage children at the party. "If you're a parent who has a 14-year-old child who's able to be at my house all night — according to the police, there was a lot of them here. I think some parents should do some reflection on their parenting before they start getting mad at me."
Watch below via Fox6Now:

[h/t Gawker]
[Image via screenshot]
— —
>> Follow Tina Nguyen (@Tina_Nguyen) on Twitter
Have a tip we should know? tips@mediaite.com