Roland Martin Calls Out NOW for McKinney Silence, NOW Ends Up Releasing Statement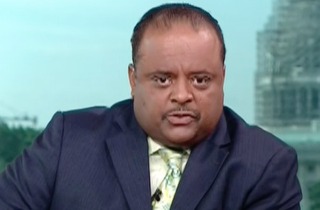 TV One anchor Roland Martin called out a a number of national women's groups, including the National Organization for Woman, on their silence about McKinney. On his show NewsOne Now, Martin said he reached out to various groups directly to ask what they've been saying about officers getting confrontational with and yelling at young black women in the Texas town.
Martin called out lots of women's groups, but particularly focused on NOW because "all too often, in cases involving black women, NOW has been missing in action."
"You can't say that you care about women,' Martin said, "but then you only care about women who are non-black."
Martin also took his concerns to Twitter:
Does anyone know if the National Organization for Women @NationalNOW has come to the defense of the 14-year-old girl slammed to the ground?

— rolandsmartin (@rolandsmartin) June 9, 2015
You would think that @NationalNOW would say SOMETHING about such treatment of a 14-year-old girl.

— rolandsmartin (@rolandsmartin) June 9, 2015
Well, hours after Martin publicly called them out, NOW released a lengthy statement from President Terry O'Neill calling for a DOJ investigation and for the officer in question to be dismissed (he's since resigned). Here's part of NOW's statement:
We can only look with revulsion on the images from McKinney, Tex., of a white police officer pushing a 15-year old Black girl in a bathing suit face-down on the ground and placing a knee on her back. Today, we are shocked, angered, and deeply worried for the well being of this young woman. Tomorrow, we need answers, and action.

If the girl had been white, would she have received the same treatment from the white police officers on the scene?

Would the white police officer involved have even considered pulling a white teenage girl by the hair while screaming "ON YOUR FACE!" and then sitting on top of her while she cries, "call my mother"?
Martin reacted to the press release with additional tweets criticizing NOW:
Now that the folks at @nationalNOW have finally woken up about the #McKinney case, it's time for them to be active players in #SayHerName

— rolandsmartin (@rolandsmartin) June 9, 2015
If @NationalNOW cares about ALL WOMEN, then they must engage these sisters on the frontlinea of the #BlackLivesMatter #SayHerName movement.

— rolandsmartin (@rolandsmartin) June 9, 2015
It should not have taken @NationalNOW to be called out on @TVOneTV #NewsOneNow to say something about #McKinney. Examine your leadership.

— rolandsmartin (@rolandsmartin) June 9, 2015
The leadership of @NationalNOW AND other liberal feminist groups must stop ignoring Black and Latino women. They must LISTEN to them

— rolandsmartin (@rolandsmartin) June 9, 2015
You can watch Martin calling out NOW here, via TV One:
[image via screengrab]
— —
Follow Josh Feldman on Twitter: @feldmaniac
Have a tip we should know? tips@mediaite.com
Josh Feldman - Senior Editor