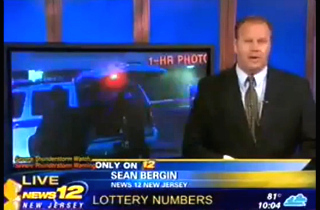 News 12 New Jersey reporter Sean Bergin has reportedly been suspended for comments he made on-the-air Sunday evening about the black community.
After reporting on a suspect in the fatal shooting of Jersey City police officer Melvin Santiago, Bergin told his viewers that News 12 was "besieged" with phone calls from police officials "furious that we would give media coverage to the life of a cop killer."
Those complaints were "understandable," Bergin said. "We decided to air it because it's important to shine a light on the anti-cop mentality that has so contaminated America's inner cities."
He then made the controversial argument that led to his reported suspension:
It has made the police officer's job impossible and it has got to stop. The underlying cause of all of this, of course: Young black men growing up without fathers. Unfortunately, no one in the news media has the courage to touch that subject.
According to TheBlaze's Jason Howerton, a source with direct knowledge of the situation confirmed the suspension of unspecified length. Bergin has, thus far, been asked not to come into the office on Monday and Tuesdayas station brass figure out what to do.
The segment itself has also apparently been scrubbed from the News 12 website.
UPDATE — 7:40 p.m. ET: From a News 12 spokesperson comes this comment:
It is News 12's policy that reporters must be objective and not state personal opinions on-air. In regards to the particular incident with Sean Bergin, the matter is being addressed internally and we don't comment on personnel matters.
Watch the comments below, via News 12 NJ:
— —
>> Follow Andrew Kirell (@AndrewKirell) on Twitter
Have a tip we should know? tips@mediaite.com