Twitter Explodes After CNN Airs Cohen-Trump Tapes: 'When What You're Doing Is Definitely 100% Legal…'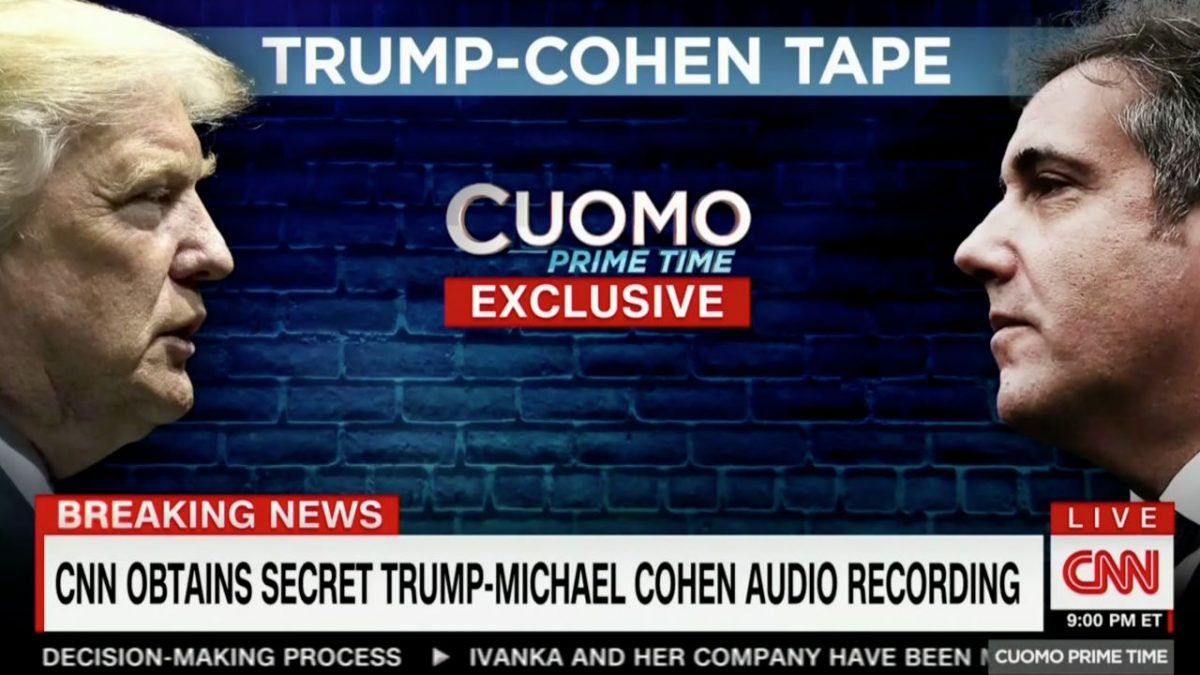 CNN dropped a bombshell at 9 p.m. Tuesday night, airing the tape that Michael Cohen recorded of his former client, President Donald Trump, that featured the pair discussing a payment to buy the story of a Playboy model who allegedly had an affair with Trump.
In the recording, from September 2016, Cohen and Trump discuss the payment, and the then-presidential candidate instructs his lawyer: "Pay with cash."
The recording aired on CNN's Cuomo Primetime, after it was given to the network by Cohen's lawyer Lanny Davis. Davis also appeared for an interview with Chris Cuomo, in which he railed against the president for his "lies" about his client.
As Davis made very clear in his appearance on CNN: "the only people who use cash are drug dealers and mobsters."
The surprise release of the tape, the existence of which was reported days ago, set Twitter on fire with speculation and hot takes about what it means for Trump's legal woes and adventurous sexual past.
Trump interrupts Cohen asking, "What financing?" according to the recording. When Cohen tells Trump, "We'll have to pay." Trump is heard saying "pay with cash" https://t.co/sNVkjEUL3c

— Manu Raju (@mkraju) July 25, 2018
Michael Cohen's lawyer Lanny Davis on Trump mentioning paying for McDougal story rights in cash:

"The only people who use cash are drug dealers and mobsters."

(CNN)

— Aaron Blake (@AaronBlake) July 25, 2018
this shit is wild https://t.co/2GEoQJcUWF

— Ashley Feinberg (@ashleyfeinberg) July 25, 2018
Cash is so funny in that technically it's legal to use it for payments, but in the real world everyone knows what's up.

— Matthew Yglesias (@mattyglesias) July 25, 2018
"Pay with cash" is the order you give when what you're doing is *definitely* 100% legal.

— Chris Hayes (@chrislhayes) July 25, 2018
We deserve the Rudy Giuliani v. Lanny Davis debate that we are enduring

— Sam Stein (@samstein) July 25, 2018
CNN got the Trump/Cohen tape. The best part is in the middle Trump yells out to his secretary, "GET ME A COKE, PLEASE." pic.twitter.com/kYcpzYBhIF

— David Mack (@davidmackau) July 25, 2018
I don't quite know what to make of this tape, but the big question is whether there's something worse out there. (Worth noting, typically, in these things you lead with your strongest stuff.) https://t.co/zdZXzNmc0F

— Susan Hennessey (@Susan_Hennessey) July 25, 2018
Did Trump try to buy McDougal's story from AMI so Pecker wouldn't have leverage over Trump? https://t.co/U09VSy2gat

— Justin Miller (@justinjm1) July 25, 2018
On the literal anniversary of the Supreme Court ordering the Nixon Watergate tapes to be handed over, the Trump tapes obtained by the FBI have been revealed.https://t.co/gld3OC9UVj

— Brian Fallon (@brianefallon) July 25, 2018
Reminder…on @NewDay this morning, @maggieNYT (late of Twitter) told us her reporting is that @realDonaldTrump's subject changing efforts on Iran and security clearances were just as much about Cohen as the Putin meeting.

Perhaps this demonstrates why?

— John Berman (@JohnBerman) July 25, 2018
I listened to the trump-cohen recording on CNN but I smartly remembered what our great president told us today: "What you're seeing and what you're reading is not what's happening."

— 364 days ago Trump promised 24-hr Hezbollah answer (@MattNegrin) July 25, 2018
If you think the president is *not* clearly saying "so we'll pay cash" on that tape, I have a pizza parlor basement to sell you. Sorry, bitcoin only

— Adam Weinstein (@AdamWeinstein) July 25, 2018
The tape "confirms the man who now occupies the Oval Office had contemporaneous knowledge of a proposal to buy the rights to the story of Karen McDougal, a woman who has alleged she had an extramarital affair with Trump." https://t.co/4snk6ynWhR

— Jim Sciutto (@jimsciutto) July 25, 2018
Stormy Daniels lawyer Michael Avenatti weighed in:
Mr. Davis is a good lawyer but his client Mr. Cohen is not innocent nor is he a victim. He is a co-conspirator dishonest thug who continues to refuse to come clean & do the right thing. They are playing you & aiming for a pardon. Where is the rest of the evidence & tapes? #Basta

— Michael Avenatti (@MichaelAvenatti) July 25, 2018
After Davis' extensive interview with Cuomo, he tweeted this grenade comparing Trump to good ole' Tricky Dicky:
Truth is once again on @MichaelCohen212 side. @POTUS @realDonaldTrump used the word cash, despite @RudyGiuliani falsely accusing Mr. Cohen. Just as Richard Nixon learned, tapes don't lie!

— Lanny Davis (@LannyDavis) July 25, 2018
Have a tip we should know? tips@mediaite.com
Aidan McLaughlin - Editor in Chief