Twitter Hates the Mysterious Rubio Superfan Who Keeps Shrieking at the CNN GOP Debate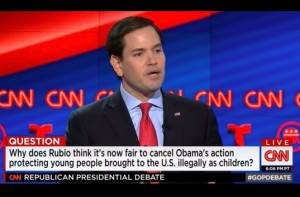 For anyone tuned in to CNN tonight to watch the Republican debate at the University of Houston, it has become increasingly clear that one particular woman in the crowd has an extreme penchant for what can only be described as shrieking. Not yelling per se, and not cheering, but it's more of a high-pitched spine-shrinking squeal, and it's clear who she is here to support: Florida Senator Marco Rubio.
Many of the Senator's responses in the first block of the debate have concluded with the sound emanating from the crowd to the horror of American ears at home; Unsurprisingly, Twitter has noticed:
That lady screaming at this debate sounds like she's at a Springsteen concert.

— Josh King (@paxaddad) February 26, 2016
WHO IS THE PERSON IN THE AUDIENCE SCREAMING. #GOPDebate

— Mark Joyella (@standupkid) February 26, 2016
Who, really who, is the shrieker in the audience at GOP debate? Someone, please have a word.

— Janell Ross (@JanellRoss) February 26, 2016
YES. Holy cow. https://t.co/RnHfAa08SF

— Chris Cillizza (@TheFix) February 26, 2016
Rubio we know you love America but bringing in an actual eagle to shriek every time you say something might have been taking it a bit far

— Matt Popovich (@mpopv) February 26, 2016
WHO IS THE SHRIEKING MONSTER AT #GOPDebate ARE THEY OKAY?

— SourceFed (@sourcefed) February 26, 2016
I'm pretty sure someone in the audience has climaxed at least 7 times based on Rubio's retorts to Trump. #MegRyaninHarryMetSally #GOPDebate

— Joe Concha (@JoeConchaTV) February 26, 2016
It is so far a mystery as to who the Rowdy Rubio Rebel is, but we will keep our ears open (but not too open with the shrieker on the loose) as more information becomes available.
[image via screengrab]
Have a tip we should know? tips@mediaite.com