Twitter Seems Angry With Reports That Aaron Sorkin Is Reviving The Newsroom: 'Have We Not Suffered Enough?'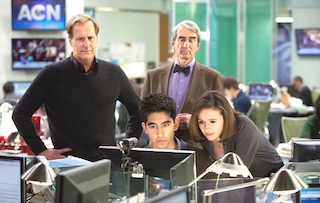 Aaron Sorkin is enjoying such a lovely moment in his somewhat mercurial career, that reports are surfacing that he is considering bringing back the formerly canceled premium cable drama The Newsroom. 
Actress Olivia Munn revealed last week to Entertainment Tonight's Leanne Aguilera that conversations were afoot with Newsroom cast and showrunner Sorkin:
"Tom Sadoski and myself, we've actually been having conversations with Sorkin about that," she tells ET of the actor who played her on-screen love interest, Don Keefer, on the show. "He's very busy, but we have very high hopes that it would be able to come together, hopefully."
ThHe Newsroom was an HBO drama that was set in the New York City studios of a fictionalized cable news outlet called Atlantis Cable News, or ACN. The show started Jeff Daniels as the irritably truth-telling cable news anchor, Sam Watterson as the oft be-bowtied executive, and various other actors who were much more attractive versions of the actual cable news employees they portrayed.
The show ran 25 episodes over three seasons, and while it ended on a much better-reviewed note, many critics seemed to feel that the cable news industry was not deserving of the sometimes hagiographic portrayal it often received.
As such, news of a potential reboot was met with its own critical response:
The rumor Aaron Sorkin might bring back The Newsroom pleases me greatly because, with that show and its two year delay, it means that Aaron Sorkin would get the opportunity to monologue at us about what we did wrong to get Trump and then we can say "Wow. Thank you, Aaron Sorkin."

— Brock Wilbur (@brockwilbur) February 18, 2019
when someone sniffs the milk in the fridge and says "hey come smell this I think it's gone bad" there are two types of ppl: ones who go over and smell it and ones who say "just throw it away". I'm the second type which is why I don't ever need to watch the newsroom

— KT Nelson (@KrangTNelson) February 18, 2019
Hot take: The Newsroom is every bit the terrible piece of crap that The West Wing is. You're just not burdened by nostalgia and can see it for what it is https://t.co/R7CMtugvnD

— Adam Rawnsley (@arawnsley) February 18, 2019
Tired: Sorkin bringing back the Newsroom
Wired: Sorkin being quiethttps://t.co/7OG2A6HD1W

— rachel leishman (@RachelLeishman) February 18, 2019
if Sorkin reboots The Newsroom, it'll be the most out-of-touch political show on tv. HOWEVER, it already has a built-in audience because centrist baby boomers are addicted to the idea of a Reasonable Man telling everyone to calm down.

— Gavia Baker-Whitelaw (@Hello_Tailor) February 18, 2019
Have we not suffered enough https://t.co/RAOOkm2Cxx

— Josh Billinson (@jbillinson) February 18, 2019
Twitter is often filled with vitriol; it's a platform on which it is all too easy to spew bile. So bully for the brave voices that actually believes The Newsroom reboot to be a good idea, like Elle Entertainment Editor Emily Tannenbaum:
I know I'm like the only one who didn't go "ew gross" when I saw this tweet, but I stand by my opinion that The Newsroom was a good show and I'd be down for more. https://t.co/XR0cWtWLkH

— Emily Tannenbaum (@ectannenbaum) February 18, 2019
I, for one, welcome the return of The Newsroom overlords if only to see Mediaite.com on the computer screens at ACN's offices.
Edit note: the original version of this article misidentified the Emily. Apologies to all Emilies for the mix-up!
Have a tip we should know? tips@mediaite.com