Two And A Half Men Star Angus T. Jones Really Hates His Show, Wants You All To Stop Watching That 'Filth'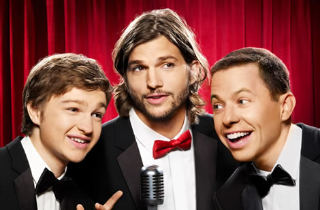 The young co-star of CBS' popular sitcom Two and a Half Men really, really wants you all to stop watching his show. And not because it's terrible (it is), but because it is filled with the sort of "filth" that is antithetical to his God-fearing ways.
In an interview with a Seventh Day Adventist video blog, actor Angus T. Jones — better known as "Jake" on the show — pleads with the show's viewers to stop watching it, and candidly says he wishes he were no longer involved with the immensely successful show that once starred a pre-meltdown Charlie Sheen (and now stars another thoughtful, timeless lead actor in Ashton Kutcher).
"Jake from Two and a Half Men means nothing," Jones told the vlog called Forerunner Chronicles. "If you watch Two and a Half Men, please stop watching Two and a Half Men," he continued. "I'm on Two and a Half Men, I don't want to be on it. Please stop watching it. Please stop filling your head with filth. Please."
The 19-year-old actor — who began with the sitcom as a much-younger, much-pudgier little boy — also said during the interview that "we need to pick our side now" between those who are "with God" and those who are "not with God." He also took another religion-related shot at his sitcom: "You can't be a true God-fearing person and be on a television show like that. I know I can't. I'm not okay with what I'm learning and what the Bible says and being on that television show."
This isn't the first time Jones has been so outspoken about his hatred for his own show. During a recent appearance at an Adventist workshop, the actor said: "It's very weird being on a television show, especially now that I'm trying to walk with God, because my television show has nothing to do and doesn't want anything to do with God … So it's a strange position that I'm put in … I'm under contract for another year, so it's not too much of a decision on my part. … I know God has me there for a reason for another year."
Watch below via Forerunner Chronicles:

[h/t Vulture]
— —
>> Follow Andrew Kirell (@AndrewKirell) on Twitter
Have a tip we should know? tips@mediaite.com