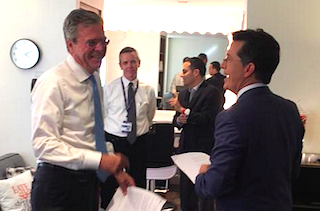 The Late Show with Stephen Colbert has not even premiered on CBS and it has already become the go-to destination for 2016 presidential candidates. Tonight's premiere features an interview with Jeb Bush and next week Stephen Colbert will sit down with Bernie Sanders. Vice President Joe Biden could even use the show to break some news on Thursday.
Now, according to a new report from the National Journal, Senators Ted Cruz and Rand Paul are jumping on board the Colbert train. Cruz is already on the schedule to appear on Monday, September 21. Paul doesn't have a date set yet, but his staff is reportedly working to arrange a time "in the near future."
With Jon Stewart stepping aside from The Daily Show and The Colbert Report off the air, it had looked like Seth Meyers might pick up the mantle of late night's political arbiter. Before deciding to sit down for a more Daily Show-esque monologue, Meyers hosted candidates like Cruz, Sanders and Carly Fiorina.
Two major candidates who have apparently said no to Colbert are Donald Trump and Hillary Clinton, the frontrunners of their respective parties. The Late Show reportedly offered each of them a chance to appear on Colbert's first night, but both candidate turned him down. Instead, Trump and Clinton are both set to appear on The Tonight Show Starring Jimmy Fallon over the course of the next week, for what are sure to be two highly-rated episodes of that show.
So while Bush, Biden, Sanders and the rest deserve credit for committing to a sit-down with Stephen Colbert before America truly knows which "Stephen Colbert" will show up, Trump and Clinton have decided to play it safe with an utterly unthreatening Jimmy Fallon.
[Photo via Twitter]
— —
>> Follow Matt Wilstein (@TheMattWilstein) on Twitter
Have a tip we should know? [email protected]