U.S. Diplomat Tells GMA's George Stephanopoulos Gaddafi Is 'Part Of Libya's Past'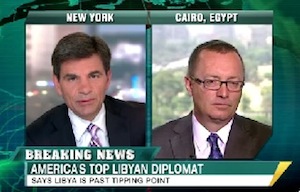 Muammar Gaddafi, "has become, for all intents and purposes, a part of Libya's past and now people need to look to build Libya's better future," Assistant Secretary of State Jeffrey Feltman said, sounding hopeful, on Good Morning America today. During the brief interview conducted from Cairo, he furthered President Barack Obama's assessment that Gaddafi's regime is "absolutely" past it's tipping point, but reminded GMA host George Stephanopoulos that, even when you are the highest ranking official on the ground, verified information is scarce.
"We've heard the same reports that you have, George," he said, when asked to confirm rumor that 95 percent of Tirpoli was under rebel control. "I can't confirm from on the ground, but I think it's clear that the rebels are winning and that it's only a matter of time now until Gadhafi has to step down, before Gadhafi looses the entire country," he said, noting their control of various instutions, including Libyan state television. And when asked if the U.S. had any clues as to Gadhafi's whereabouts, he said that they did not, but that it "almost doesn't matter."
What was most clear in Feltman's message was a hopefulness for change in Libya after nearly six months of revolts. "The overwhelming vision that we are hearing from people across Libya, from civil society, from the government, from tribal leaders, is that they want a Libya that is modern, that is secular, that is unified — independent Libyans controlling Libya's future in order to ensure that a moderate, secular Libya is the one that emerges from 42 years of Gaddafi's tyranny." Beyond hope, with information coming out of Libya scattered and often too quick to confirm, it's still too soon to tell.
Have a tip we should know? tips@mediaite.com