U2's Bono On Somalia: 'You Can Blame Droughts On God, But Famines Are Man-Made'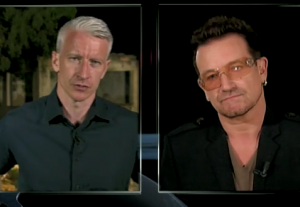 In an interview Wednesday on CNN's AC 360, U2 frontman and activist Bono dismissed any suggestion that the famine threatening the lives of up to 600,000 African children was the result of an act of God. "You can blame droughts on God, but famines are man-made," the singer told Anderson Cooper, who was in Mogadishu, and has been reporting from the region all week. "This shouldn't be happening," Bono, who is co-founder of the ONE campaign, said, noting that other countries in the region have been hit by the same drought, but effective use of agricultural programs have helped avoid famine.
The situation in Somalia has been staggering–and led Cooper to argue the lives of hundreds of thousands of kids should be getting more of the world's attention:
600,000 children are on the brink of starvation, according to the United Nations. 600,000 children. That should be a headline in every paper, every newscast, every day as long as this famine lasts. It won't be of course, because we've come to accept these catastrophes as somehow inevitable events that we can't do anything about until it's too late. That's not true of course, but it's the way many perceive it. It isn't until we see pictures of dying children that we feel compelled to take action. Sadly those pictures aren't hard to find in Somalia today.
Bono says the long term solution is implementing programs to handle drought. But in the next few weeks, the problems are urgent:
"We need money, we need cash, but also we need safe passage for that food and shelter. As to the long term stuff, we know exactly what to do with droughts. You can blame droughts on God, but famines are man-made. We know exactly what to do, and this shouldn't be happening."
Watch it here, from CNN:
Have a tip we should know? tips@mediaite.com