Uh-O: Jon Stewart Tears Into Obama's 'Attractive' AG Comment And Michelle's 'Single Mom' Gaffe
Uh-O: Stewart Tears Into Obama's 'Attractive' AG Comment & Michelle's 'Single Mom' Gaffe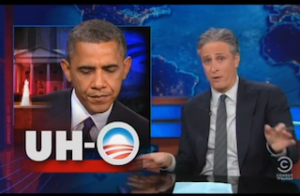 Jon Stewart kicked off The Daily Show Monday night by looking at some of the more troubling aspects of President Obama's difficult weekend. From his unfortunate remarks about California Attorney General Kamala Harris to his wife referring to herself as a single mother, now is not the best time to be the president.
After learning that the president's budget was "dead on arrival," Stewart expressed his dismay since he'd just received his copy in the mail. He tried to give the thick stack of papers CPR, but could not revive the document.
On Obama's remarks about the "good-looking" attorney general, Stewart advised the president, "I know we're all excited that Mad Men is back, but that's no time to go Draper." And after Michelle Obama's "single mother" comment, Stewart predicted that the president might finally lose some of his Al Green mojo.
But soon, Stewart moved on to some more uplifting news for the left: the increasingly prevalent phenomenon of Democratic lawmakers coming out in support of marriage equality. "It may seem like all the Democrats are rushing to get on the side of gay marriage with a breakneck pace of passengers disembarking a shit-encrusted cruise ship," Stewart said, "but whenever a Democrat talks about their change of heart, they tend to put it on a more epic time scale."
Ever since President Obama told the country how he had "evolved" on the issue, Democrats have been embracing "Charles Darwin's Theory of Gay Evolution." As Stewart presented it in the diagram below, the theory explains how one politician can gradually go from "That's Illegal" all the way to "Congrats Mr. and Mr. Smith."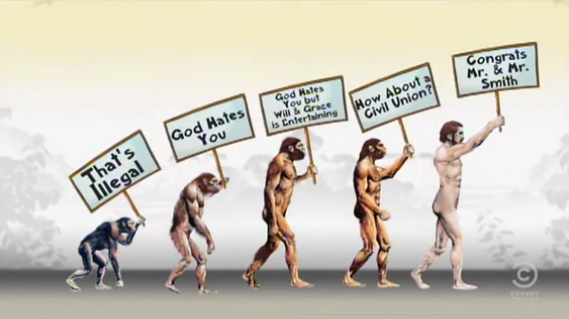 Meanwhile, for Republicans, it's been a bit more difficult for them to make the switch. While GOP Senators Rob Portman and Mark Kirk have announced their support for marriage equality, Rep. Matt Salmon (R-AZ) is sticking by his opposition despite the fact that his son is gay. As Stewart explains, Rep. Salmon "believes men and women should reproduce as generations of is people have throughout history. By swimming hundreds of miles upstream, spraying their sperm into ice cold water, flipping over and dying as God intended."
Watch video below, via Comedy Central:
—
>> Follow Matt Wilstein (@TheMattWilstein) on Twitter
Have a tip we should know? tips@mediaite.com