Uncle of 1-Year-Old Shooting Victim Interrupts Live TV Report to Deliver Heartbreaking Message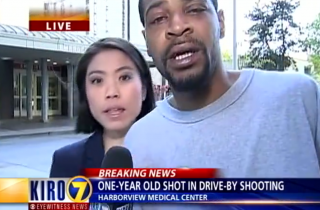 A one-year-old infant was struck in the head Thursday during a Seattle-area drive-by shooting, leaving her seriously wounded. As police hunt for the shooters, the media is positioned outside the hospital for live updates on the child Malaja's condition as well as thoughts from the family or hospital officials.
While reporting on the latest development that the infant is now "brain dead," KIRO-TV's stakeout was visited by Edmond "Mackie" McNeil, who emerged from the hospital with what can only be described as an emotionally-stunned look. McNeil walked directly up to the camera and began talking about the family's reaction.
"She's going to be alright," he said, clearly on the verge of tears. "We'd like the family to have peace. And people not to be talking to us and stuff. We'd like a little privacy."
He continued: "The baby's going to make it. Everything's going to be alright. We have faith in God."
When the reporter asked him to describe what happened, he became annoyed, bluntly telling her, "Ma'am, you know what happened, don't play games with us."
Police say Malaja was shot during a road-rage incident. Malaja's family car turned onto a road at the same time as a black sedan, according to the report. "There was some sort of exchange," a police spokeswoman said, "and the next thing we know is the individuals in the black vehicle exchanged gunfire (at the) silver vehicle." Only the child was wounded by the bullets.
"We need to stop the Seattle violence," the child's uncle implored on live television. "It's over. We're trying to live for our kids. Everybody needs to live for your kids now. It's over. You ain't no gangster because you want to carry a gun. It's stupid. Live for your kids. Be a PTA parent."
Watch the heartfelt moment below, via KIRO-TV:
— —
>> Follow Andrew Kirell (@AndrewKirell) on Twitter
Have a tip we should know? tips@mediaite.com