Uncomfortable: Matthews Makes Jim Cramer Squirm, Tries To Get Him To Denounce Donald Trump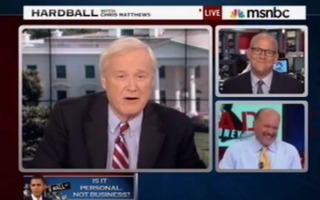 MSNBC host Chris Matthews cornered Jim Cramer, host of CNBC's Mad Money, on Monday and attempted to get him to denounce his network's regular guest and prominent Republican, Donald Trump. Matthews accused Cramer of "dodging" his question and lightheartedly turned to guest and reporter John Heilemann who he described as "a lot gutsier" than Cramer.

RELATED: CNBC's Jim Cramer De-Friends Facebook In The Ultimate Flip Flop
Matthews first asked Cramer to weigh in on the lackluster economic news coming out in recent days, and Cramer overturned conventional wisdom when he said that he believed the economy was in fairly good shape.
"The auto industry is booming. The housing industry is coming back big. The retail industry is just on fire, especially with the tailwind that is coming from lower gasoline prices," said Cramer. "This country is stronger than people think, but I feel like I'm the only one who's saying it."
When Matthews pivoted to Trump and his touting of the "birther" issue against Obama, he asked Cramer for his thoughts.
"There are so many issues that are about Washington, but they're not about Obama. They're about Congress," Cramer responded.
Matthews again asked Cramer about Trump's touting "birtherism" and Cramer finally responded "I think he's off the reservation with that." He did say that Trump appears on CNBC every Tuesday morning before pivoting to oil prices as an indicator of economic stability.
"You're dodging," said a smiling Matthews. "You're far more concerned with not mentioning this guy's name, aren't you?"
Matthews said he would give Cramer a "freebie" on this and said he would turn to Heilemann who Matthews characterized as being "a lot gutsier."
Watch the segment below via MSNBC:
Follow Noah Rothman on Twitter
Have a tip we should know? tips@mediaite.com