'Unforgivable': Axelrod & Gibbs Blast 'Lionization' Of Snowden, Challenge His 'Grandiose' Claims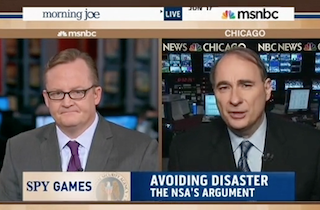 Robert Gibbs and David Axelrod, both formerly advisers to President Obama, weighed in on the NSA news and leaker Edward Snowden on Monday's Morning Joe. Questioning the "high school dropout's" security clearance, Gibbs and Axelrod expressed skepticism about how much information he actually had access to. It's time we stop "lionizing" him, Axelrod advised.
Much of what Snowden has said "does not check out," Andrea Mitchell noted, also remarking that leaking about the U.S. spying on China is "damaging."
"That's not whistle-blowing," she added. "A lot of the reports we're told have been exaggerated. That he didn't have the kind of access he claims to have had. But telling the Chinese just when President Obama is trying to negotiate with the Chinese about their hacking and their stealing of our defense secrets, is arguably very damaging indeed."
Gibbs, for his part, was "amazed" that a 29-year-old high school dropout snagged secrets on a thumb drive. He recalled the safe he and Axelrod had, noting that top-secret material had to be locked away.
"I'm not going to confer hero status on a guy who is clearly not now just leaking information to make a point about civil liberties," Axelrod chimed in. "He's leaking information that is meant to damage the U.S. intelligence gathering around the world and that's really, aside from being a crime, you know, it's unforgivable. I hope that the lionization of Mr. Snowden stops."
Referring to Snowden's "grandiose" assertions, he added, "I don't think he had access to as much as he claims." Speaking of access, Axelrod further noted that "my experience has been it's always going to be young people who have access because us old guys don't know how to work the systems."
The system, and how work is dealt over to contractors, needs to be reevaluated, he argued. "You can't have the Edward Snowdens of the world running around with access to the most sensitive secrets of the country."
Watch below, via MSNBC:

Have a tip we should know? tips@mediaite.com