Unfortunate Timing? CNN Plays 'Only The Good Die Young' After Segment On Sikh Shooting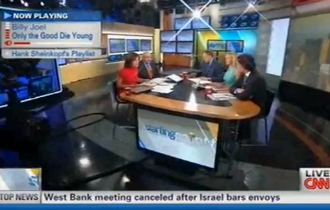 In what has become yet another on-air musical mess-up, CNN's Starting Point played Billy Joel's "Only the Good Die Young" Monday morning shortly after a report on this weekend's Sikh temple shooting in Oak Creek, Wisconsin.
The show had aired an interview with a Sikh representative explaining misconceptions about his religion before going to commercial break. Upon returning from the break, the Billy Joel hit introduced the a political segment unrelated to the events in Wisconsin.
The show aired the following lyrics of the song: "They showed you a statue, told you to pray / They built you a temple and locked you away / But they never told you the price that you pay / For the things that you might have done / Only the good die young"
Starting Point regularly airs the musical choices of its guests and hosts; and this particular selection came from Democratic consultant and guest Hank Sheinkopf.
– RELATED: CNN Plays Pink's 'Stupid Girls' Teasing Segment On Sarah Palin
The song, of course, has nothing to do with gun violence or mass shootings — in fact, it was a controversial song about a boy trying to convince a Catholic virgin to sleep with him — but the unfortunate timing of a song that references a "temple" and death has garnered enough outrage for CNN to issue an apology:
We aired a song from a guest's playlist on the morning show following a three-minute commercial break and before a segment on presidential politics, unrelated to the Wisconsin shooting. Given the news of the day, this was regrettable and we apologize to our viewers.
This musical mishap comes eight days after CNN introduced a segment on Sarah Palin with Pink's song "Stupid Girls." The network apologized for that as well, insisting that the song selection was unintentional.
Watch a clip below, via CNN (with commercial break edited out):
[h/t NewsBusters]
Have a tip we should know? tips@mediaite.com