Univision Anchor: Mitt Romney Demanded Favorable Crowd, Introduction Do-Over At Forum
Univision Anchor: Romney Demanded Favorable Crowd, Introduction Do-Over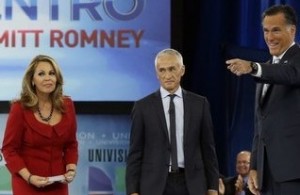 While both candidates for president appeared in separate Univision forums in Florida this week, Republican candidate Mitt Romney secured himself several advantages over President Obama, according to a report by Buzzfeed's McKay Coppins. Univision anchor Maria Elena Salinas told Buzzfeed that while both candidates had agreed to distribute their share of tickets mainly to students, Romney's campaign reneged at the last minute, demanding to bus in activists to fill the seats. Salinas also said Romney forced Univision to re-shoot his introduction by refusing to come onstage until they relented.
Considering the kind of week Romney was having,  and his crushing disadvantage to President Obama with Hispanic voters, he certainly needed the help, and by hook or crook, he got it. From Buzzfeed:
(Maria Elena) Salinas told BuzzFeed that tickets for each forum were divided between the network, the respective campaigns, and the University of Miami (which hosted the events) — and she said both campaigns initially agreed to keep the audience comprised mostly of students, in keeping with the events' education theme.

But after exhausting the few conservative groups on campus, the Romney camp realized there weren't enough sympathetic students to fill the stands on their night — so they told the network and university that if they weren't given an exemption to the students-only rule, they might have to "reschedule."

…Romney's team was allowed to bus in rowdy activists from around southern Florida in order to fill the extra seats at their town hall.
When co-anchor Jorge Ramos noted, in Romney's introduction, that he would only be available for 35 minutes, versus the full hour that President Obama had promised, Romney refused to come onstage until Univision agreed to re-shoot the introduction. "Our president of news was talking to the Romney campaign and negotiating it," Salinas told Buzzfeed. "But at that point, you can't really argue with that. The candidate is there, everyone is in their seats, the show must go on. There's a limit to how much we can object to it."
They re-shot the intro, noting the time discrepancy at the end of the broadcast.
President Obama, by contrast, adhered to the original agreement, and threw no hissy fits.
This doesn't make Mitt Romney look great, but it's important to note that all campaigns, to some degree, engage in this kind of "working" of the press. This particular story resonates a bit more because Romney also made some news by flying supporters in to his NAACP speech in July, but in real terms, it doesn't say much that we already didn't know.
What is significant is that this isn't the first time that the Romney campaign has been "burned" by a reporter revealing behind-the-scenes negotiations that are usually kept off the record. I say "burned" because there's no indication that in either case, the reporter actually burned the campaign by revealing off the record information, but rather that the campaign appears not to have secured an off-the-record agreement. Aside from this incident, a local Colorado reporter revealed, in August, that the Romney campaign had demanded, as a condition of  their interview, that she not ask Romney about Todd Akin or abortion.
When campaigns and press offices are dealing with experienced reporters who are assigned to a regular beat, like campaign press poolers or White House reporters, negotiations about access are generally understood to be off the record. They'll reinforce the point a few times with new reporters sometimes, but it's pretty much a given, and doesn't come up all that much.
But when dealing with reporters who are covering their guy on an as-needed or one-off basis, it's up to the campaign to make sure off the record agreements are explicit. The fact that the Romney campaign let themselves be embarrassed a second time (at least) is yet another symptom of a campaign that can't seem to get its act together.
Have a tip we should know? tips@mediaite.com