Univision Anchor Presses Obama To Acknowledge He Didn't Keep Immigration Reform Promise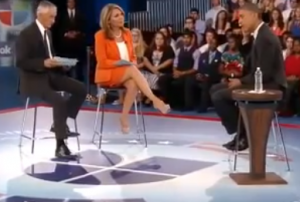 During a Univision forum on Thursday, President Barack Obama found himself faced with questions about his lack of progress on the immigration front. Reminding the president of his campaign promises, host Jorge Ramos pressed Obama, asking him to acknowledge he hadn't kept them.
Ramos began by quoting the president's promise to bring comprehensive immigration reform in the first year of his presidency:
"I cannot guarantee that it is going to be in the first 100 days. But what I can guarantee is that we will have in the first year an immigration bill that I strongly support and that I'm promoting. And I want to move that forward as quickly as possible."
Emphasizing "the first year," Ramos further noted that in the beginning of Obama's term, Democrats controlled both the House and the Senate, put didn't introduce reform. "Before I continue, I want for you to acknowledge you did not keep your promise," Ramos said.
Obama responded by pointing out that when he said that, no one knew the financial meltdown that lay in the months ahead. "My first priority was the make sure that we prevented us from going into a Great Depression," he said. "And I think everybody here remembers where we were four years ago." Lest anyone forget, he provided a brief recap of the economy's problems.
The president then went on to defend himself. "Even in that first year, one of my first acts was to invite every single member of Congress who had previously been supportive of comprehensive immigration reform," he said, "and to say to them, 'We need to get this done.'"
Reaffirming his commitment to tackling the issue, Obama added, "What I confess I did not expect — and so I'm happy to take responsibility of being naive here — is that Republicans who had previously supported comprehensive immigration reform…suddenly would walk away. That's what I did not anticipate."
Ramos listened to the president's multi-faceted answer, responding bluntly and speaking in English to ensure nothing would get lost in translation. "You promised that," Ramos said. "A promise is a promise. And with all due respect, you didn't keep that promise."
Offering a brief civics lesson, Obama noted that he's only the head of the executive branch, and in our form of government there must be cooperation between that branch and the legislative and judicial branches.
"I am happy to take responsibility for the fact that we didn't get it done," Obama said, "but I did not make a promise that I would get everything done, 100 percent, when I was elected as president."
Later in the interview, Obama was asked about his biggest failure. "Jorge, as you remind me, my biggest failure so far is we haven't gotten comprehensive immigration reform done," he replied, eliciting applause from the audience. "But it's not for lack of trying or desire."
The clip below:

(H/T BuzzFeed)
Have a tip we should know? tips@mediaite.com