Univision Cuts Ties with Donald Trump's 'Miss Universe' Pageant After His Mexico Comments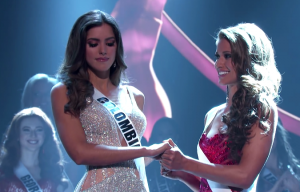 The fallout from Donald Trump's anti-Mexico comments at his candidacy announcement continue to get worse, as it looks like the Donald's about to lose some major business over the whole affair.
Variety reports that Univision, the Spanish language television network based in the United States, will no longer air the Miss Universe pageant, which Trump has an ownership stake in. Not only that, but the network is ending all business ties with the Miss Universe Organization and its partnership with Trump.
They released an official statement explaining their position:
Today, the entertainment division of Univision Communications Inc. announced that it is ending the Company's business relationship with the Miss Universe Organization, which is part-owned by Donald J. Trump, based on his recent, insulting remarks about Mexican immigrants.

At Univision, we see first-hand the work ethic, love for family, strong religious values and the important role Mexican immigrants and Mexican-Americans have had and will continue to have in building the future of our country. We will not be airing the Miss USA pageant on July 12th or working on any other projects tied to the Trump Organization.
The network does, however, promise to cover and and all noteworthy aspects of Trump's presidential campaign "to ensure our audience continues to have access to all points of view."
The Donald, the predictable man that he is, immediately took to Twitter to denounce the announcement. According to him, this isn't about his "rapist" comment at all — it's about terrible trade deals.
Mexican gov doesn't want me talking about terrible border situation & horrible trade deals. Forcing Univision to get me to stop- no way!

— Donald J. Trump (@realDonaldTrump) June 25, 2015
Univision wants to back out of signed @MissUniverse contract because I exposed the terrible trade deals that the U.S. makes with Mexico. — Donald J. Trump (@realDonaldTrump) June 25, 2015
I love Mexico but not the unfair trade deals that the US so stupidly makes with them. Really bad for US jobs, only good for Mexico.

— Donald J. Trump (@realDonaldTrump) June 25, 2015
Mr. Trump, if I may be as so bold as to offer you some advice via a YouTube video — otherwise known as the "lingua franca" of the modern era:
[h/t Variety]
[Image via screengrab]
— —
>> Follow Andrew Husband (@AndrewHusband) on Twitter
Have a tip we should know? tips@mediaite.com