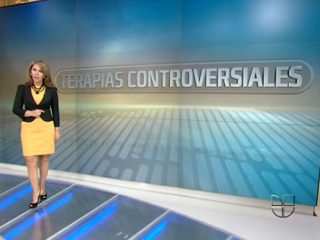 Univisión newsmagazine show Aqui y Ahora boasts a formidable ratings base and explores controversial political topics for an audience that sometimes uses the show as its only source of news. This weekend, the show tackled the topic of "gay reparative therapy," interviewing subjects and providing expert opinion. Except the subjects they interviewed were "success" stories who were now heterosexual (or, in one case, a "failure"), and the "experts" were mostly "psychologists" who denied the existence of homosexuality.
The segment, hosted by Maria Antonieta Collins, begins with the story of Hernán, who came out of the closet and was accepted by family, but one day decided he wanted a change. After meeting a woman through an ex-boyfriend, he says, "I felt things I had never experienced with any other men," and though the dating was short-lived, he decided to seek "help." The report then speaks to the man responsible for his transformation– psychologist Everardo Martínez who says there is "no proof anyone is born gay," and explains that anyone can become straight. "If you want, you can repress homosexuality because you are not gay, your body says you are not gay." Hernán concludes that, while he still has "temptations," he is no longer gay.
RELATED: Univisión's Jorge Ramos To Gingrich: How Did Your Affair Differ From Clinton's?
Collins repeatedly describes this process as "sexual reaffirmation" and shows clips of "Club Toby," Martínez's meetings where formerly gay men interact and "learn proper masculine behavior." They do attempt to show to potential downsides with the story of Miguel, who married a woman but was exposed as gay before his church in Tennessee and forced into "sexual restoration." Miguel explains that he was promised "to be able to live a fuller life with the woman I married." The report then narrates that Miguel fell into "acute depression, which culminated in a nervous fit. His attempt to become straight failed."
The report concludes with a short interview with a psychologist that explains that people are born with sexual orientations, and a note that the government of Ecuador has begun to shut down "reorientation clinics," calling them "torture chambers." This after a high note in which Hernán happily declares he sees himself married to a woman in a few years.
The full segment, in Spanish, below:
Imagine the same being broadcast on any English-language news magazine: Nightline or 60 Minutes. Imagine Brian Williams hosting a segment on a "successful" gay-to-straight transformation complete with quotes from a "psychologist" that denies the existence of homosexuality, which calls the depression of a man suffering after being submitted to this therapy a "failure." Not to mention that the report makes no mention of the causal link between "reorientation therapy" and suicides. The idea, likely even in most conservative English-speaking communities, would be an outrage. More than several people would be fired over it.
The sad reality of Spanish-language television in America that few in the English-speaking community think about or understand is that Univisión, based on the size of its syndication and near-monopoly on Spanish-language TV in America (it's top competitor, Telemundo, trails far behind in the ratings), essentially serves a captive audience. While they do boast some of the youngest demographics of any network in America, they also have a stranglehold on non-English speakers, who, according to the Pew Research Center, 36% of watch 1-3 hours of Spanish-language TV a day– slightly lower than those who speak mostly Spanish but some English at home.
RELATED: Monday Night's Ratings Winner? Univision's La Fuerza del Destino
The Latin American community in America is in something of a parallel with the African American community politically— to the extent that it can be considered a monolithic population (it is not, at all, but let's play along for now) it is widely Democratic, because many Latin American voters live in blue states and use government resources to prop themselves up. But it is also an overwhelmingly socially conservative population—"Latin Americans" (whatever that is) tend to attend church at higher rates, be generally more pro-life and anti-gay marriage. This is particularly true of Mexican Americans—and far less true of Cuban Americans, who are more socially liberal while also voting Republican more often—who is the main Latin American audience the network serves. This gives the network far more leeway in presenting socially conservatives stories to their audience.
In other words, a Spanish-speaking audience is significantly more likely to be receptive to this sort of report, especially if they don't watch English-language news or follow national politics. The odds that someone watching this report as their main source of news would know who Marcus Bachmann is or why he was controversial are slim. The odds that they would know of the high suicide rate linked to gay reparative therapy or that they would have seen Anderson Cooper's harrowing report on the "sissy boy" experiment slimmer, still. It is no exaggeration to say that, for a Latin American LGBT teenager, having their parents watch a report like this could be their death sentence.
Conversely, just as the audience for this program was likely to be more comfortable with the material, so too are those who would be uncomfortable with it less likely to find it. There have been some outspoken voices– GLAAD has called out the network for airing it, noting that among the first to condemn it was singer Ricky Martin and providing some more statistics on the psychological damage of gay reparative therapy and exactly how many viewers were exposed to this report: "The program in 2010 had approximately 3.2 million total viewers. Comparatively, the English-language newsmagazine "Nightline," averaged 3.7 million viewers in 2010."
It is commendable that someone at GLAAD is keeping tabs on Spanish-language media, too, but sadly, they are likely preaching to the choir. As the American Latino population grows, Spanish-language media becomes more pivotal to national social attitudes, and precisely because of this they must be held to the same standards as any mainstream media outlet. They are the mainstream media, whether you understand it or not, and the burden of condemning news reports when they so egregiously promote inhumane practices should not fall exclusively on organizations like GLAAD, because they are not the only ones that will have to deal with the repercussions of this irresponsibility on Univisión's part.
Have a tip we should know? tips@mediaite.com