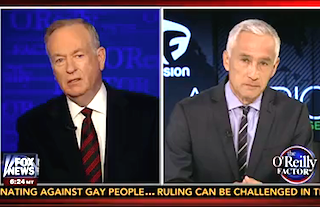 Bill O'Reilly liked what he saw from Jorge Ramos this week when the Univision and Fusion host said in an interview that journalists in the United States are too "cozy with power." But things got tense fast when Ramos appeared on The O'Reilly Factor Friday night and accused the Fox host of having his own problematic biases.
"We all have biases," Ramos said. "You have your own biases, I mean whenever you are covering Obamacare or Benghazi or supporting the Republican Party more than the Democratic Party."
O'Reilly cut his guest off quickly, asking, "Whoa, whoa, whoa, have you ever seen me do a softball interview with anybody?"
"I have seen you tough interviews, but I've also seen you support more Republicans than Democrats," Ramos replied.
O'Reilly admitted that might be true in "editorials," but insisted, "I have never done a softball interview in my life." On the issue of "access," which Ramos discussed in his POLITICO interview this week, O'Reilly lamented the fact that he cannot get House Minority Leader Nancy Pelosi to come on his show because she "knows" he will ask her "tough questions."
"But you can get Republicans, right?" Ramos asked, attempting to prove his initial point. To this, O'Reilly replied that he can get some, but not all, pointing to Dick Cheney as an example of a Republican who would not come on his show until after he was mostly out of politics.
Later in the interview, O'Reilly brought of the immigration issue, grilling Ramos on how he entered the country "the legal way" and saying the border with Mexico needs to be more secure.
"It's more secure than ever before," Ramos said of the border, pointing out that President Barack Obama "has deported more than two million so far."
Watch video below, via Fox News:
[Photo via screengrab]
— —
>> Follow Matt Wilstein (@TheMattWilstein) on Twitter
Have a tip we should know? tips@mediaite.com