Univisión's Jorge Ramos Scolds Obama For Using His Likeness In A Campaign Ad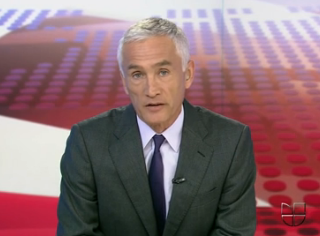 The Obama campaign is now 2/2 in "unfortunate moments on Univisión's Al Punto." After senior campaign adviser David Axelrod went on the program and declared that Republicans nominating Sen. Marco Rubio as Vice Presidential candidate would be "an insult to the Hispanic community," host Jorge Ramos ended the program yesterday with some stern words for the campaign: don't use me in your campaign ads.

RELATED: David Axelrod: 'It Would Be An Insult To The Hispanic Community' For Marco Rubio To Be On GOP Ticket
Ramos altered his viewers at the end of the program yesterday that he would be appearing in an Obama campaign ad soon, and that he had nothing to do with that appearance and actively rebuked it. Explaining that "we have always defended our journalistic integrity," he told the audience that he had alerted the White House and the Obama campaign proper about the misuse of his image, and was very displeased with being dragged into partisan propaganda.
The video via Univisión (in Spanish, with translation under video) below:
"A few hours ago the Obama reelected campaign aired an ad using my image and that of Noticias Univisión. I want to make clear that I reject the use of my likeness and that of Noticias Univisión in any election campaign. We have let the Obama campaign and the White House know, and we want to leave a public notice of our disagreement. We have always defended our journalistic integrity and will always continue to do so."


—–
» Follow Frances Martel on Twitter
Have a tip we should know? tips@mediaite.com