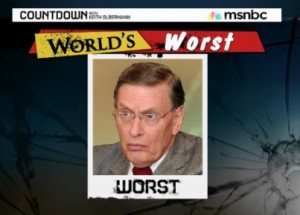 In the 5 or so years I've been watching Countdown, I have never seen Keith Olbermann name just one person in his Worsts segment. That is, until tonight, when he gave the honor to baseball Commissioner Bud Selig, for failing to overturn the "safe" call that robbed Armando Galarraga of a perfect game.
In doing so, Olbermann managed to change the mind of someone who, only hours earlier, had mocked a friend for expressing a similar wish to overturn the call.
That stubborn, old-school purist would be me. Yes, I have become the old dudes I hated when I was a kid, who would never shut up about the DH rule, and night games, and free agency, and everything else that was ruining baseball. Truth be told, Major League Baseball was ruined for me the night Pete Rose got a standing ovation while standing on the same stage as Hank Aaron…in Atlanta!
But the game of baseball is a different story. It's not like other games. It is eternal because it literally is eternal. The length of a baseball game, or even a single inning, is infinity, theoretically. All of the perversions that can beset the men who run the game, and the men who play it, are transcended by the game itself.
As a kid, all I needed were a tennis ball and a garage door to be transported back in time, to relive moments I had only ever seen in grainy black-and-white films. Throwing the last pitch of Don Larsen's 1956 World Series perfecto, or short-hopping the tennis ball off the garage so I could turn and chase it like Willie Mays making "The Catch," always ensuring that my hat fell off in the process. It's a kind of magic that no glacially-progressing Major League establishment, or remorseless cheating scoundrels, could ever ruin.
It's why the 1919 Black Sox scandal was so monumental, yet ultimately inconsequential. The very unthinkability of throwing a World Series was proof of the game's innate purity, so much so that the crestfallen plea to "Shoeless" Joe Jackson, "Say it ain't so, Joe," remain shorthand for shattering disillusionment to this day. The only thing that allows Pete Rose to go anywhere near a baseball game is the fact that even his worst detractors, myself included, don't believe that he ever bet against his own team.
Perhaps the biggest stain on Major League Baseball was the pre-Jackie Robinson ban on black players, but the game of baseball always welcomed them, and wove legends around this injustice. Segregation in the old Negro Leagues did nothing to quash the heroism and romance of players like Satchel Paige and Josh Gibson. If anything, it enhanced them, as stories of their exploits filtered back through the majors from  exhibition games between Negro League teams and Major League barnstormers.
That's the great thing about baseball, it doesn't need some governing body to tell its stories. Keith brought up Harvey Haddix during the show, a guy who threw 12 and 2/3 perfect innings, only to lose the game because his team couldn't score (ironically, that game featured a call that was later overruled by the league president). Some say Haddix' Pirates had a weak offense. I say the universe just couldn't stand to let the greatest pitching achievement in baseball history rest on the shoulders of a guy nicknamed "The Kitten."
As Olbermann mentioned, Major League Baseball changed the definition of a no-hitter in 1991, stripping Haddix of his perfecto in the record books. But that doesn't change the enormity of Haddix' accomplishment, nor will it ever stop baseball fans from remembering it.
In much the same way, Mark McGwire and Barry Bonds may appear atop legends like Hank Aaron, Willie Mays, and Roger Maris in those record books, but true baseball fans will always know the difference. The Kansas City Royals may have ultimately won the Pine Tar Game, but that will never deaden the pure joy I felt as a Yankees fan, watching George Brett lose his shit while Billy Martin stood there chuckling inwardly. Cal Ripken, Jr., may hold the consecutive games played record, but he'll never hold a match, much less a candle, to the accomplishments of Lou Gehrig. And no matter their fans' glee at breaking the Bambino's Curse,  the Boston Red Sox are still just "that team with two World Series Trophies." (Sorry, that one was just for me.)
The point is, the game of baseball already knows that Armando Galarraga pitched a perfect game. No pronouncement from Bud Selig is going to change that, and Selig holds no conviction deeply enough to trump it.
What really changed my mind, though, is that, on top of all of this, Keith Olbermann only named one Worst Person tonight. He doesn't ever have to do that again, and maybe he won't. This was a special case, so he made an exception. Selig should do the same.
Have a tip we should know? tips@mediaite.com