USA Today Columnist Michael Wolff: 'Unbeatable' Roger Ailes 'Crushes' His Competitors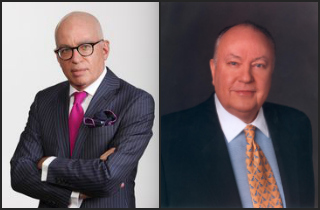 One day before Random House revealed its massive roll-out for Gabriel Sherman's forthcoming book on Roger Ailes, USA Today media critic Michael Wolff penned a column heaping praise upon the Fox News mastermind in light of the network's 12th consecutive year of beating all other cable news networks in the ratings.
"The 2013 numbers are out, and once more, for 12 years running, Ailes' Fox News trashes everybody else in the cable news space, with an audience larger than CNN's and MSNBC's combined," Wolff wrote. "He gets larger, everybody gets lesser, creating perhaps the single most infuriating circumstance in modern media. Ailes, ever taunting the liberal media establishment, is ever further beyond its reach."
Wolff called MSNBC a "Fox-like wannabe on the liberal side," and lamented its ceding the "moral high ground" by going decidedly liberal with its editorial coverage. "MSNBC may be even more one-note and more pugilistic than Fox. But, even at that, it's a common hoofer and Ailes is Fred Astaire," the Vanity Fair columnist wrote.
CNN, he added, has made some gains since "prince of network television" Jeff Zucker took the helm, but still, Wolff said, "Logically, there are too many cable news channels."
The media critic asserted that Fox's wild success makes CNN and MSNBC possible as cable carriers are forced to carry balanced coverage of the news in liberal MSNBC and moderate CNN. And yet, Wolff wondered: "[W]hy would you do it? Why would you consign yourself to being in somebody's shadow? To get up in the morning thinking about Roger Ailes and to go to bed at night thinking about him, too. And, mind you, television executives don't think about their political virtue, they think about ratings numbers, on which their careers are made or forgotten (and for which they would sacrifice all virtue)."
Ultimately, he concluded, TV execs "think, perhaps, that Ailes at 73 can't do this forever. And that whoever replaces Ailes can't do it as well as Ailes. But by that time, of course, there may be no television audience at all."
Read the column here.
— —
>> Follow Andrew Kirell (@AndrewKirell) on Twitter
Have a tip we should know? tips@mediaite.com