Utah Smoothie Shop Charges More For Liberal Customers, Donates Proceeds To Conservative Groups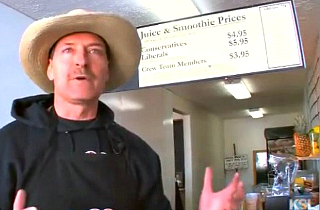 A quirky smoothie shop owner in Eastern Utah is trying to send a political message to his liberal customers by charging them extra and donating the money to conservative causes like the Heritage Foundation.
George Burnett, owner of the I Love Drilling Juice and Smoothie Bar in Vernal, Utah, first came to local fame by becoming an ardent supporter of the area's energy industry. "I Love Drilling" became his signature phrase, emblazoned on shirts and signs found throughout the town. Now he is putting his conservative values to work at his smoothie shop.
For any 16 oz. smoothie in his shop, Burnett charges conservatives $4.95, and self-identified "liberals" are asked to pay an additional dollar. "I'm very open about it," he told KSL. "I'm very public about it, that I'm going to charge them a little bit more, and I have liberals come in and pay the extra dollar surcharge."
"Actually all three liberals have been happy to pay it," he said. The shop is located in the solidly red Uintah County, which gave 90% of its vote to Mitt Romney this past election.
The rationale for his pricing scheme? Burnett explained: "We have a fiscal problem in this country. We've got to deal with it or we don't have a country, so to kind of help make that point, just a little bit, I charge [liberals] just a little bit more."
While some have decried his scheme as "pathetic," KSL spoke to Burnett's conservative customers who were supportive.
"For him to do this kind of puts a face out there on people who are, in my opinion, in the wrong. 'In the wrong' being liberals," one customer explained. "To see them being charged a little bit more, it makes me happy."
Watch the report below, via KSL-TV:
[h/t ThinkProgress]
— —
>> Follow Andrew Kirell (@AndrewKirell) on Twitter
Have a tip we should know? tips@mediaite.com