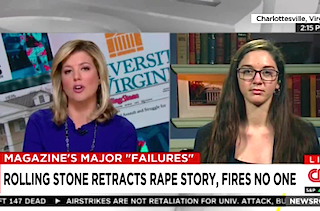 Alex Pinkleton, a University of Virginia rape survivor turned activist who served as a source for Rolling Stone reporter Sabrina Rubin Erdely as she investigated her since discredited story "A Rape on Campus," appeared on CNN Monday afternoon to share her side of the story.
According to the Columbia Journalism School's external review of "what went wrong" with the Rolling Stone story, Erdely attempted to enlist Pinkleton's help in tracking down the three former friends of her subject, "Jackie," who supposedly could corroborate that the gang-rape she alleged took place. But after Pinkleton said she would need to ask Jackie's permission to do so, she said Erdely opted not to follow up.
Later, Pinkleton disputed Erdely's suggestion that the UVA administration refuses to help students who have been raped. "The university's response is not, 'We don't care,' " Pinkleton said. "When I reported my own assault, they immediately started giving me resources."
Responding to Erdely's apology on CNN Monday, Pinkleton said, "I think her apology could have been better for sure. I think what she pointed to as her mistakes were she put so much trust in this one source. I don't think that should have been part of what she called a mistake because it's not a mistake to believe someone that says they're sexual assaulted. It's not a mistake to want to protect them at all. The mistake is she's a journalist and didn't verify the story and that's really where she went wrong."
Pinkleton went on to echo concerns she expressed to Columbia that this story "has the potential to be detrimental to sexual assault victims" and said that Erdely did "do a lot of harm to potential victims who haven't disclosed to friends or to the administration."
"I do think that Sabrina deserves some sort of ramifications and I'm sure that she's getting those other ways, maybe not from being fired but I'm not sure who would trust her at this point with a story," Pinkleton added. "I know from personal experience that I would not recommend it."
In an interview released following Columbia's report, Rolling Stone publisher Jann Wenner confirmed that Erdely will continue to write for the magazine and that both managing editor Will Dana and the editor of the article, Sean Woods, would both keep their jobs.
Watch the full interview below, via CNN:
[Photo via screengrab]
— —
>> Follow Matt Wilstein (@TheMattWilstein) on Twitter
Have a tip we should know? tips@mediaite.com